Aussie wingsuit jumper plunges to death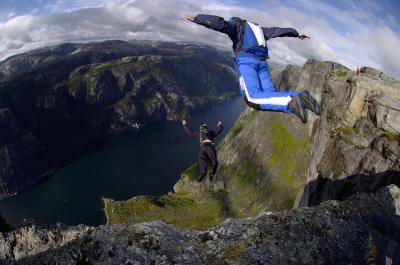 TRENTO- A young 26-year-old base jumper has been confirmed dead following an attempted leap down a mountain Monday in the Dolomites. His friend remains in hospital in a critical condition. The name of the victim is yet to be released. 
 Three young men, all in their 20s, attempted the jump from the Paganello mountain in the Trentino region. The victim is of Australian nationality and had been on a day out with his two friends, another Australian and an Italian- Swiss national from nearby Merano. They began the attempted flight early morning Monday from the summit of Paganello with the intention of landing at the village of Zambana Vecchia. Unfortunately only one of the young men arrived at the propsed meeting point (the Italian-Swiss national).
 Having waited and without any sign of the others, the 20something decided to raise the alarm. There were no traces to be found of the other two friends so firemen from nearby Zambana and the alpine emergency rescue team were called in to help assist. The search included over 30 people and a helicopter, the shape of the valley with its many indentations making it difficult to spot bodies amongst the rocks.
 At around 13.30 the first man was found with multiple injuries requiring emergency treatment and an airlift, by helicopter, to hospital in Trento. The second was discovered just over an hour later, unfortunately dead. The body was stuck in a gorge in an impassable area 800 meters above sea level.
 This comes only 24 hours after the fatal rope snap and fall on the nearby Presanella mountain which claimed the lives of three and left six injured, the youngest victim being a boy of just 13. All six injured are still being treated in hospitals in the Trentino region. 
ES