Ferragosto madness takes over Italy's beaches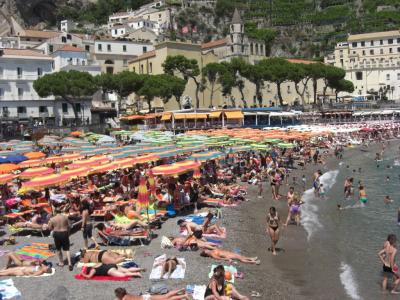 LIDO DE LAVINIO - Italy has celebrated Ferragosto on August 15 for as long as one can remember. Thought to have its origins lie with the Emperor Agustus, who invented the Feriae Augusti (August holidays), it also celebrated the Assumption of the Virgin Mary.
 Nowadays, it is the busiest time in summer for Italians, with roads at a standstill due to traffic, overcrowded beaches, and a Rome without Romans. According to federturismo, Italy's National Association for Travel and Tourism, 22 million Italians have chosen to spend their holiday's on the motherland, while the amount of foreign tourists on the peninsula has increased by three per cent. And they flock to the beach, which in many cases can be more stressful than fun.
 This is due to beach rules and regulations not being respected: Renato Papagni, the president of Federbalneari Italia, the association for seaside tourism, stated in an interview with Il Messaggero that "Each region defines the distance required between the umbrellas, depending on the land; where the beach is smaller the beds can be two and a half metres from each other, while in larger beaches there can be up to five metres between umbrellas required." 
 These rules seem laughable when one visits Italy's beaches, with some on the Adriatic coast reaching up to 40 rows with barely enough space between the beds to reach the bars. Amongst the most crowded beaches are in Rapallo, Positano and Cesenatico, none of which have any regulations about distance between loungers. 
 On the other hand, Italy has had a surge in the privatisation of beaches in recent years. Often, one has to walk for several minutes before finally finding a "spiaggia libera", or free beach, where holiday goers are allowed to put down their own towels and umbrellas. And it is often the case that the private beaches one walks past are empty, only allowing members to lie on their beds, without renting them out singularly. This trend results in the almost ghettoisation of non-members being made to lie on the dirtier parts of the beach, surrounded by abandoned sun loungers they may not rent for the day. 
 Whether shoved next to a stranger on a sweaty sun lounger in Sorrento or lying on some seaweed in Santa Severa, be sure to choose your beach wisely for the remainder of the holiday!