Pan-krazy, a modern twist on Greek God Pan on August 1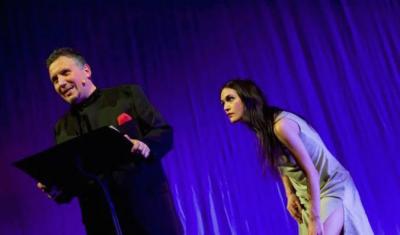 VOLTERRA - PAN… crazio: the freedom to be afraid is coming to Volterra's Piazza dei Priori, on August 1 at 9:30pm. It is part of the town's International Roman Theatre Festival, organised by Pentagon Productions. The performance is a kind of contemporary, original rewriting of Greek God Pan's myth, half-goat half-man, abandoned by his mother for his frightful ugliness, and inventor of the flute.
 Alma Daddario, who directed the play and wrote the original book on which it is based, is a well-established journalist in Rome. Simone Migliorini stars in the performance giving voice to all the characters, with live music by David Dainelli on the piano and Angela Zapolla on the violin, and inspired choreography by Carlotta Bruni. 
 Through a very thought-out organisation of sound and rhythm, the author gives voice to the protagonist, who becomes a contemporary musician from a difficult childhood marked by the abandonment of his mother and the controversial relationship with an egocentric and perfectionist father. Pan grows up with an inevitable and insatiable hunger for affection, which is especially sought after in women.
 Spectators will wear special wireless silent system headphones during the piece of theatre described as "extraordinary for originality and emotional impact" by critics after the preview earlier this summer. A new version will be unveiled to the general public next month. 
 Paola Dei, psychologist and journalist, after seeing the show's preview, wrote: "Pan ... crazio is a set of contradictions […] It has little to do with a single character, but rather becomes a universal plot. Simone Migliorini, using his voice as a tool, makes the invisible visible, and in front of our eyes appears the nymph: a prey sought for the god of the woods and the darkness."
 "Theatre is born out of myth," explains Daddario, "Freud understood that well, and Hillman, a great admirer of Pan, even more so. Pan is an uncontrollable reminder of our 'wild heart', the one related to mother nature. Which myth is most representative of our uncertain times? Pan is the semi-God that reminds us of our roots. He represents a force, a hope, this incomparable divine gift represented here by music."
vk