San Vito lo Capo celebrates 20th couscous festival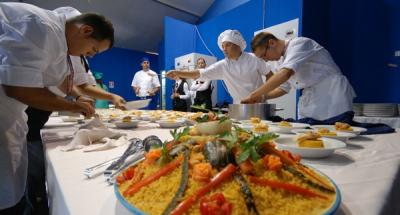 PALERMO- San Vito Lo Capo celebrates its Cous Cous Fest from September 15 to 24 as part of the International Festival for Cultural Integration. It is the 20th anniversary of the festival that takes place annually in the Province of Trapani, Sicily.
The Festival will celebrate the recognition and use of couscous in different types of cuisines, having originated in the dunes of Magreb and now popular across the world.
The festival will see an international cooking competition, tasting from local chefs and cooking shows from leading figures in the Italian and international cooking scene, including Claudio Sadler, Filippo La Mantia and Giorgione. There will also be instructive talks, shows and free evening concerts. San Vito lo Capo is famous for its breath-taking beaches which make for an unforgettable setting for this unique show of gastronomic talent, culture, music, shows and the festival's message of peace and integration between cultures.
On the first Saturday and Sunday of the festival, the national competition will take place between six Italian chefs to see who will consequently proceed to represent Italy in the Couscous World Championships, to be taken place later on in the festival. At the Championship, ten chefs from across the world will have their couscous plates tasted and judged by Joe Bastianich (founder of Eataly USA) and a random member of the public.
 "Case del couscous" (Couscous Homes) will be dotted over the village where different couscous recipes will be available for tasting, offering the Mediterranean, Moroccan and Sicilian take on the popular dish.  
Aside from the traditional and experimental dishes, however, visitors will be able to revel in the musical feats of the festival. On September 15, Spanish group Jarabe de Palo will perform in celebration of their 20th anniversary of their career as well as the 20th anniversary of Cous Cous Fest. On September 22, rising star and singer of Occidentali Karma's  Francesco Gabbiani will deliver a performance in piazza Santuario.
Markets and cooking shows will continue throughout the 10 day festival.
The Cous Cous Fest is organised by the communication agency Feedback di Palermo in conjunction with the Comune of San Vito Lo Capo. 
zt