International Roman Theatre Festival in Volterra
VOLTERRA –The International Roman Theatre Festival will start on Thursday in Volterra, Tuscany, and will continue until August 8. It is part of a range of festivals which will liven up the city throughout the summer.
 The International Roman Theatre Festival, the Volterra Jazz, the Giacomo Puccini Philharmonic and the Palio di Pomarance are part of the "Festival of Festivals." The four festivities will run from June to September.
 This year marks the fifteenth edition of The International Roman Theatre Festival, an edition which will be dedicated to Vittorio Gassman. Run by Andrea Mancini, it will take you to the best of theatre.
 The programme goes from classical, reinterpreted on a contemporary pattern, and stone theatre, to the return of the great Lindsay Kemp, who after a long break, chose Volterra for her Kemp Dance.
 The Roman Theatre Festival will propose high-level performances from beginning to end: Fernando Arrabal will be present for the première of Dalìvs Picasso and an internationally renowned soprano, Patrizia Ciofi will offer a recital.
 Theatre comes along with high-level work conducted by the Volterra Jazz Festival, a very attractive concert program, performed by musicians: Jerome Sabbagh, Stefano Battaglia, Mirco Mariottini, Daniele Malvisi and Giulio Stracciati, who is also the artistic director of the 24-year-old Jazz Festival.
 Finally, the very popular Giacomo Puccini Philharmonic will this year celebrate its 170th anniversary. The project Pro Loco of Pomarance, which deserves special attention, working with the unique Palio di Pomarance, will present original theatrical performances.
For further information and tickets:
Visit www.teatroromanovolterra.it
Tourist information centre : 0588-87257
Pro Volterra : 0588-86150
vk-ls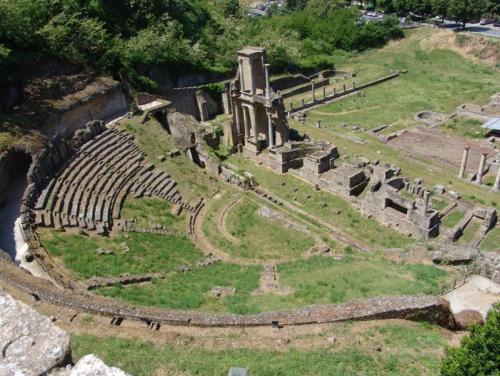 Roman Theatre of Volterra