Exclusive: WFP chief spurns predecessors' lavish lifestyle
A Syrian child greets WFP's Executive Director David Beasley with a flower at the Adams Informal Tented Settlement in Bekaa Valley, Lebanon. Photo: WFP/Edward Johnson
ROME – The World Food Programme Executive Director, David Beasley, says he "would probably sleep in a tent" rather than live in a lavish villa of the kind enjoyed by some other United Nations food agency chiefs residing in the Eternal City in the past. But the former Republican governor of South Carolina is considering what accommodation he may need to entertain major donors to the world's largest humanitarian organization as it braces to cope with a possible "substantial cut in funds" proposed by the Trump administration.
 Since taking up his appointment at the helm of the WFP, Mr Beasley, 60, has been living in an hotel for the short period he has been in Rome when not travelling to see the situation on the ground in famine-stricken Africa or visiting donor countries. On Sunday he moved into temporary, "simple" accommodation in the working class district of Testaccio after returning from Uganda.  
 "I have been drinking out of the fire hydrant these past 77 days," Mr Beasley told the Italian insider. "You can only imagine what it has been like walking into a post with four countries facing famines and the worst humanitarian crisis since WWII."
 "On top of that, the largest donor to WFP, the US, is proposing a substantial cut of funds. So, it is all hands on deck. I have been in the field about one third of the time, in major donor countries about one third of the time, and in the office in Rome about one third."
 Mr Beasley made his remarks in response to a question from the Insider about whether he expected to implement 10 recommendations made by Catherine Bertini, the first American to head the WFP, to streamline costs and adopt a more humble personal expense account style including not using the substantial housing allowance goes with the post.  When Ertharin Cousin managed the WFP for one term before Mr Beasley, whistleblowers at the agency complained to the New-York based Inner City Press http://www.innercitypress.com/wfp4cousin120312.html  that Ms Cousin asked for an increase of nearly 24,000 euros for her housing allowance, up to 160,000 per year. WFP later confirmed the 160,000 figure for her housing was approved.
 Kanayo Nwanze, the president until earlier this year of WFP's sister organisation IFAD, the International Fund for Agricultural Development, and now a consultant to the FAO, was forced to move out of his magnificent villa estate on the Appian Way, Rome's millionaire's row, in 2011 after the Italian Insider disclosed how IFAD was spending as much as 300,000 a year on the park featuring a swimming pool, soccer and basketball pitch, gymnasium and fleet of BMWs in the garage. http://www.economist.com/node/18008043
 Mr Beasley told the Insider that "as to Bertini's recommendations, I will go back and check , but I am pretty sure I am in line with most of her thoughts. I met with her in DC the first day I started."
 "As to the housing, I have not had the time to really look for a place. I have been staying in a hotel the time I have been here and I just located a short term place for the next few months in the Testaccio area for a few thousand  dollars."
 "At this point in time, that is being paid for from the housing allowance. I believe the rent is 3K/month. It is a simple place and works for me right now."
 "As you can imagine, many of my friends are recommending a large place so that as the Exec Dir, I can entertain major donors for obvious reasons," Mr Beasley added.  "Since WFP is run completely on voluntary donations, meeting with donors is very important. Before I make a final decision on that, I wanted to be in the saddle for 6 months or so and get a feel for what is best for WFP."
 "If it were just me, I would probably sleep in a tent, but I must think about what is best for WFP and raising the funds necessary for ending hunger around the world," Mr Beasley said.
 While even rents of 3,000 euros or dollars might be considered high by many ordinary Romans a senior WFP executive acknowledged that Mr Beasley has adopted a careful approach to personal expenditure. "That's a whole lot less than most predecessors," he said, speaking on condition he not be named, "no cardboard box under the Ponte Garibaldi for them."    
jp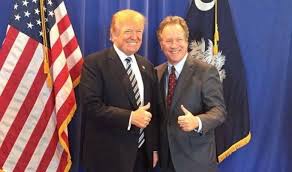 David Beasley and Donald Trump