Taobuk: International Book Festival hits Sicily 24 - 28 June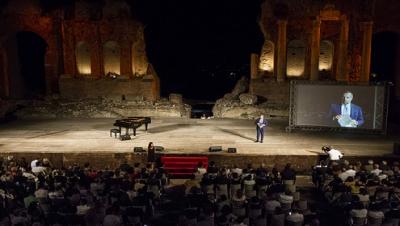 Taobuk 2016 at the Teatro Antico di Taormina
TAORMINA - The seventh edition of the Taormina International Book Festival (Taobuk; from Taormina and book) will take place 24-28 June this year. This festival puts literature in pride of place, surrounded by cinema, music, theatre, journalism and wine and food. 
 The inauguration will take place on Saturday at 20:30 in the delightful setting of the Teatro Antico di Taormina. The evening will be hosted by Antonella Ferrara, organiser of the festival, and Tg1-RAI journalist Alessio Zucchini. 
 The theme for this edition of the festival is fathers and children: questions addressed will include: "What have we inherited and what do we want to pass on to future generations?" "Who am I and therefore where do I come from?" Taobuk will focus this year on the transmission of knowledge and identity, where the father's figure is intrinsically related to that of the master.
 There will also be writers, journalists, philosophers, artists, representatives of civil society and politics, both Italian and international, who will participate in meetings, round tables, musical performances, reading, art and photography exhibitions, tourist tours, movie projections and writing classes. Much to do in such a stunning location.
 Awards will be presented to writers Abraham Yehoshua and Domenico Starnone (Taobuk Award for Literary Excellence), magistrate and essayist Nicola Grater (Taobuk Award for Civil Engagement), director Gianni Amelio (Taobuk Award for the film "The Tenderness"), and actors Luigi Lo Cascio (Award for a Life for Art) and Christian De Sica (Prize as protagonist of Film "Fräulein").
 For more information and the complete programme please visit https://www.taobuk.it/. 
vk