Pope: "There is corruption in the Vatican, but I am at peace"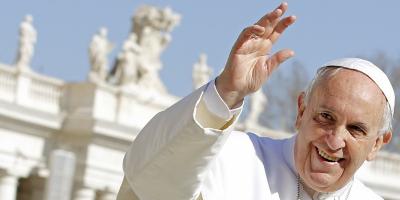 VATICAN CITY -- "There is corruption in the Vatican, but I am at peace," Pope Francis said in an interview with the Jesuit periodical La Civiltà Cattolica, further stating that, "Sexual abuse is a disease."
 "I am at peace. If there is a problem, I write a note to St. Joseph and I place it under the statue I have in my room," says the pontiff, reported by Italian daily Corriere della Sera.
 "It is a statue of St. Joseph sleeping, and now he sleeps on a mattress of notes!" the head of the Holy See joked.
 In fact, Francis said he has never felt so calm: "I do not mind admitting that what I am experiencing is a completely new experience for me. In Buenos Aires I was more anxious, I admit. I felt more tense and worried. I have experienced a sensation of profound peace ever since I was elected. It has never left me; I live in peace. I cannot explain it."
 On the topic of sexual abuse, the pope explained, "If there are any religious involvements in this, it is clear that it is the presence of the devil that destroys the work of Jesus (…) But I say clearly: this is a disease. If we are not convinced that this is a disease, then we cannot properly resolve the problem."
 Indeed, the pontiff assured that all problems must be tackled head on, saying, "Never wash your hands of problems! (…) A superior who washes his hands is not a father, and doesn't help."
  The Holy Father then went on to tell Corriere della Sera what, in his opinion, is the worst thing within the Catholic Church: "A worldly and princely attitude has entered the structures of the Church, and religious communities can contribute to destroying this malign influence. And there is no need to become a cardinal to feel like a prince! It's enough to be clerical. This is the worst thing in the organisation of the Church. Monks and friars can help with the testimony of a humbler kind of brotherhood."
 Upon concluding the interview, the pope left the room with the parting words: "Go forward with courage and without fear of making mistakes! We must go forward! We err at times, yes, but there is always the mercy of God on our side!"
 sw