Fendi, Valentino and Portugal Fashion at AltaRoma
Portugal Fashion show featured Estelita Mendonça collection
 ROME -- It appears this January edition of the AltaRoma shows is a gift that keeps on giving. Silvia Venturini Fendi, the only family member still working at the Rome-born and world-renowned Fendi fashion house, and Pier Paolo Piccioli, Creative Director of Valentino, were invited to the stage Friday afternoon to discuss the 'creative immorality' and artistic freedom of the Eternal City.
 Speaking to an auditorium crammed with designers, journalists and fashion fans, the Creative Directors gave an insightful talk entitled 'Roman Romance,' talking of the unmistakable beauty and rich history which the Italian capital offers to the fashion and film industries.
 Yes, Milan is considered the Italian fashion hub. However, as the Fendi Director reminded the audience, the Romans first had the honour of dressing the biggest celebrity in the country and, arguably, the world -- the Pope.
 Spectators, brimming with patriotism and pride, then ran to catch the Portugal Fashion collaborative fashion show, featuring three diverse Portuguese designers in a dynamic and impactful performance.
 The show commenced with designer Alexandra Oliveira's Pé de Chumbo collection. Boldly patterned mid-length dresses met richly textured floor-length gowns, complete with intricate lace details and figure-hugging silhouettes. Despite often sticking to one block colour per dress, the beauty was certainly in the detail of the materials and fabrics used, as the designer is recognised for her mix of traditional and innovative application processes.
 Next saw Estelita Mendonça take to the runway with his F/W 17/18 menswear collection. Aiming to 'infuse his collection with a sense of identity,' the models wore purple puffer ponchos and red waxed tracksuits, combining wool and cotton with plastic and waterproof fabrics in a brave and experimental display.
 To conclude the show came Susana Bettencourt, the Portuguese-born graduate from the London College of Fashion who specializes in knitwear. Focussing around shades of green, cream, royal blue and bright yellow, the designer explored thick knit jumpers and ponchos as well as ankle grazer dresses and wrap-around cardigans for her latest collection.
 Progressing into the evening, the AltaRoma events continue with the fifth edition of 'Pumps in Style' from the Coin Excelsior brand, including an in-store dance performance from models and finishing with a cocktail party and DJ set.
 sw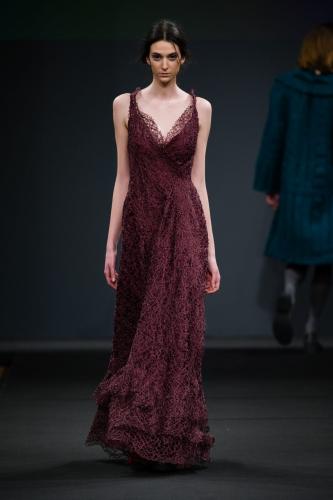 Model wears dress from Alexandra Oliveira's Pé de Chumbo collection. Photo:S. Dragone - G. Palma / Luca Sorrentino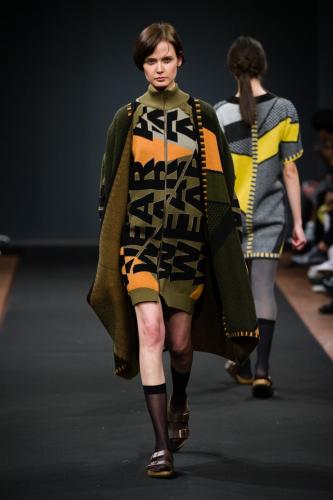 Models walk in Susana Bettencourt collection. Photo: S. Dragone - G. Palma / Luca Sorrentino