Hero saves many but loses own children in coach blaze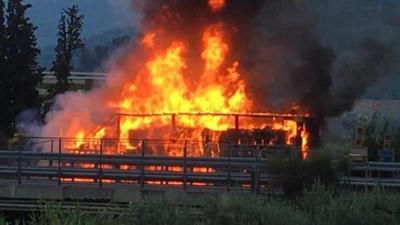 The coach afire after crashing near Verona
 VERONA -- A total of 16 people, most of them teenagers, were killed when a Hungarian coach returning to Budapest from a mountain holiday slammed into an electricity pylon and caught fire, police said Saturday.
 Many others were saved by a physical education teacher, Gyorgy Vigh, from the teenagers' school who made several trips back into the burning coach to carry his students to safety yet lost his own children, Laura and Balazs, in the blaze.
 Professor Gyorgy was badly burned in the process, and his wife Erika (also on board the vehicle) saw their daughter perish, Hungarian consular officials said.
 Some of the passengers were thrown clear from the bus in the collision on the A4 motorway a short time before midnight Friday while others were trapped inside the blazing vehicle. At least 36 people were injured, many of them seriously, and seven are still in hospital.
 The Verona police continue their work in reconstructing the accident in order to identify the cause, aided by witness' statements.
 Budapest police have also opened up an investigation, parallel to the Italian case, looking for information on the technical condition of the coach at the time of departure from Hungary.
 Sw-jp