Giorgio Vasari 500 years old
Giorgio Vasari self portrait
 AREZZO -- Giorgio Vasari is not as colourful as more turbulent artists but has another kind of interest.  His greatest success came eventually not as a visual artist but as a writer: his Lives of 16thcentury artists shape what we think about them and the Italian Renaissance.
 His home town Arezzo is repaying a debt to Vasari on the 500thanniversary of his birth.  Vasari, painter, architect, stage set designer and pioneer art historian made his career principally in Florence and Rome but remained attached to his birthplace where his home can still be visited.
 Arezzo is honouring him with two art exhibitions and, surprisingly, a botanical one.  In addition his works are found throughout the Tuscan town of 100,000 inhabitants.  For instance, in the central square, Piazza Grande, his spacious loggia is the site of the Vasari café-restaurant which looks out on the Vasari sail-style bell tower above the Laity Association building. Scenes for the film Life is Beautiful ,which won an Oscar for Roberto Benigni in 1991, were shot  in this square.
 Vasari was commissioned to built the loggia as part of a restructuring of the town after it rose unsuccessfully against the Tuscan capital Florence.  Born in 1511, at the age of 13
 Vasari left for Florence, the capital of an assertive republic, to become a painter.
 The Medici family which ruled Florence believed the arts added to their prestige.  At  21 Vasari entered the service of Duke Alessandro de' Medici but the duke was assassinated five years later.  Vasari, now on the outer, went to live in a monastery at Camoldoli outside Florence.   In 1540 a banker close to the papal court, Bindo Altoviti, arrived there to buy timber for St. Peter's basilica which was under construction.  He commissioned Vasari to paint an Immaculate Conception for the family altar in Florence. It was well-received.
 Within a few months Pietro Aretino, the raunchy writer who was a home town friend, commissioned Vasari to paint the sets for a play he was staging in Venice.  It was a triumph.
 These two events probably explain why, that same year, Vasari was able pay in cash two-thirds of the price ( 700 gold florins ) for a house on a slight hill in Arezzo.  He commented "it's the best air in Arezzo...and there is room for a wonderful vegetable garden."  He lived there with his young wife Niccolosa Bacci, the handsome blonde daughter of a local aristocratic family which commissioned the True Story of the Cross affresco by Piero della Francesca in the San Francesco basilica.  Vasari was attached to his home: he said that even the plants were sad when he went away to embellish other houses.
 For five years from 1550 he worked at the papal court.  Invited to an evening with literary luminaries by Cardinal Farnese, he heard the historian Paolo Giovio say he was thinking of writing a book about famous artists.  He recounted the lives of some, making scores of mistakes which Vasari immediately corrected.  Giovio invited him to write the book.
 Perhaps Vasari's friend Michelangelo Buonarotti also encouraged him to branch out when he delivered a perfect squelch.  The story is that, after Vasari completed a painting for the papal court, Michelangelo asked him how long it had taken.  "A hundred days" answered Vasari.  "And it looks like it" said Michelanglo, who thought it needed more care.
 Vasari produced Fast Art.  He executed swiftly scores of commissions, was expert at organising work teams and being a cultural 'operator'.  He was a competent but mediocre painter compared to his idol Michelangelo who was born near Arezzo 36 years before Vasari.  
 More skilled as an architect than as a painter, Vasari was responsible, among other things, for the Palazzo Carovana in Pisa, the Uffizi in Florence and the Varsarian corridor which runs from the Uffizi across Ponte Vecchio to the Pitti Palace on the other side of the Arno river.  Now a splendid portrait gallery, it was built as an escape route for the Medici family and was used as such by Florentines to foil the Nazis during the Second World War.
 In 1555 Cosimo Medici made Vasari the equivalent of his Minister for Culture.  He is best remembered because he took up the suggestion made by Paolo Giovio in Rome and wrote the Lives of Artists which established standards for art history.  Giovio was amazed, saying Vasari wrote better than he painted which might have been a backhanded compliment.  The book traced the development of art from Cimabue to Michelangelo through biographical essays of over 200 painters and sculptors.  It put the case for the importance of all artists whereas previously they were often considered merely as manual workers.  But it championed above all Vasari's friends and Tuscan artists.
 He saw art as a constant progress as if Giotto would like to have been able to paint like Michelangelo but was unable to do so.  He wrote that Giotto and his contemporaries had to be weaned, that they did not deserve "even mediocre praise" but conceded that, given their circumstances, what they achieved was "a miracle." For him Gothic was not a style of art but more a barbarism.
 Big and black-bearded, Vasari was a dynamo. He travelled widely to gather material first-hand and had a good eye for anecdotes such as that of Cimabue seeing  the shepherd boy Giotto drawing a perfect sheep or recording the stench that hung around Massaccio or Pietro Aretino dying while laughing at a dirty joke.  He discerned artistic influences, schools and tackled the vexed question of attribution.
 He popularised the word Renaissance to describe what his contemporaries were achieving. And for him the apogee of the Renaissance was Medicean Florence with a canon of artists he established which still prevails.  He was a perfect PR for the Medici.
 Of course the Tuscans were genial but Vasari hardly did justice to other painters such as those of the Veneto: he looks down on them as inadequate in design with too great an emphasis on colour.
 In his Lives he devotes 76 pages to Michelangelo, 28 to himself, 24 to Raphael and only 14 to the Veneto master Titian.
 There are 17 letters from Michelangelo to Vasari in his currently contested archive.   In the 17th century Vasari's last direct heirs decided that it was not to be separated from the house.  The Italian State, which owns the house, values the archive at two and a half million euro but the proprietors want more.  Recently they claimed a Russian was prepared to pay 150 million euro, but he said they were only trying to raise the price. They now have signed a contract with an Italian who has residence in Romania which specifies he must receive 10 million euro from whoever acquires the archive.  What will the State, which has first right to buy the archive, decide when it already has a hug debt?
 Vasari spent 16 years decorating his home.  One room, dedicated to Fame and the Arts, has portraits of contemporary artists.  In the room of Apollo and the Muses there is a portrait of his wife Niccolosa.  The bedroom decorations honour fertility but the Vasari couple did not have children.  There is a gallery of paintings by Vasari and his contemporaries, some acquired in recent years.  The house is backed by a formal Renaissance garden with a fountain and box hedges whereas in Vasari's time the space was used to grow vegetables.
 One exhibition for the 500thanniversary traces the development of Tuscan art from Cimabue to Michelangelo along the lines of Vasari's Lives while the other exhibition is of Vasari's drawings and paintings.  Moreover throughout the city there are plants in vases as examples of the pioneering botanical work of Vasari's contemporary Andrea Cesalpino.   The organisers claim that his classification of plants, many of them arrived from the newly-discovered Americas, followed the same principles as Varari's classification of the visual arts in his Lives.
Fact file
Giorgio Vasari     Galleria Comunale d'Arte Contemporanea. 3 September-11 December
The Primacy of Tuscans in Vasari's Lives   Lower floor of San Francesco Basilica. 3 September – 9 January 2012
House and museum of Vasari  55 via XX Settembre. Closed Tuesdays.  Monday-Saturday 8-30-19; Sunday 8.30-13-30
A ticket for all three costs 10 euro.   
Romeis paying a 500th anniversary tribute to Vasari at the Cancelleria with a meticulously restored Adoration of the Magi (1566-67) from Piedmont splendidly displayed in the huge hall of the 100 days.This is decorated by frescos which Vasari painted in a hundred days. Entrance 5 euro.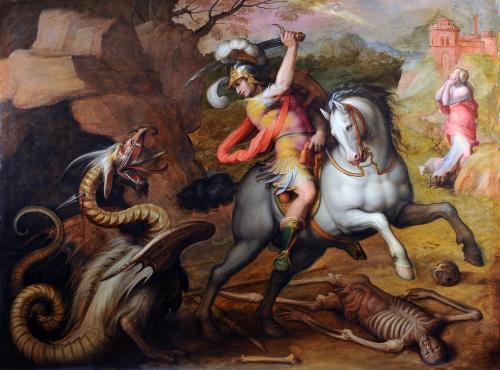 St George and the dragon by Giorgio Vasari and Giovanni Stradano