Baghdad Cathedral massacre remembered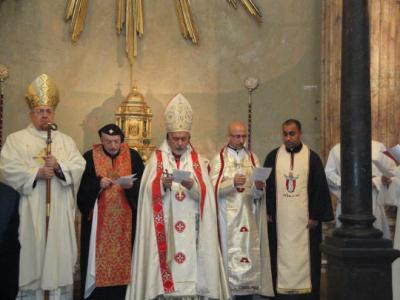 A mass to honour the massacred congregation
By INSIDER REPORTERS
 ROME -- A year ago, on Oct. 31, 2010 in Iraq, 42 Iraqi Christians, including three children and two priests, were shot dead by terrorists in Our Lady of Salvation Cathedral in Baghdad.
 According to the SITE Institute (The Search for International Terrorist Entities), the Al-Qaida group called "The Islamic State of Iraq" claimed responsibility for the attack. They killed 42 and injured more than 100 who had gathered in the cathedral.
 A commemorative Mass was held on the anniversary at the Santa Maria della Concezione church in Rome, in memory of the victims.
 The Mass was celebrated at the Syrian-Catholic church by Monsignor Mikael Al Jameel, representative to the Holy See of the Syrian-Catholic Patriarchate.
 The homily was delivered by Cardinal Leonardo Sandri, the head of the Vatican's Congregation for Eastern Churches. His message was one of hope and forgiveness.
 "The Church and the world cannot and must not forget," Cardinal Sandri said "We must remember, yes, certainly, but to offer forgiveness and to pray fervently for peace for the living and for the dead."
 At the end of the Mass, Father Mukhlis Shasha, friend of the two murdered priests, Thair Saad Allah and Waseem Sabeeh, said: "Their martyrdom was more valuable for having taken place within the church. It is more beautiful to be killed within the church than outside it."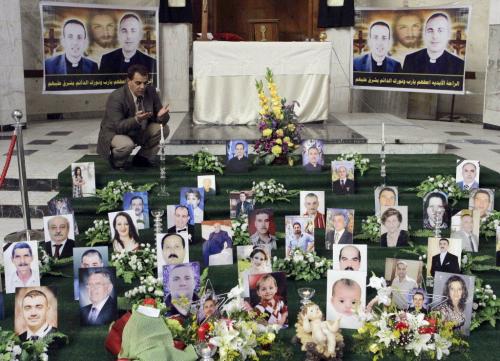 A memorial for the 42 killed. Picture taken Christmas Day 2010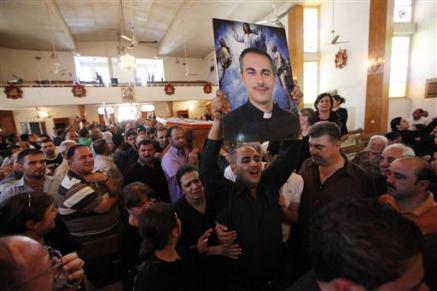 A man holds a photo of slain priest Thair Saadallah