Nationalisation 'inevitable' for oldest Italian bank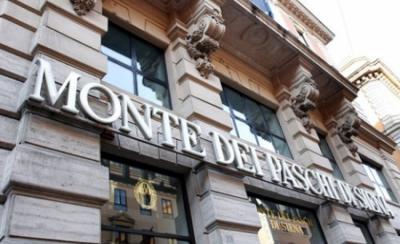 Italy's oldest bank, Monte dei Paschi di Siena
 ROME -- As international banks cannot guarantee their contribution to Italy's oldest bank Monte dei Paschi di Siena's recapitalisation, the Treasury is ready to allow it another week, despite nationalisation seeming inevitable, financial sources said Monday.
 JP Morgan, Mediobanca and other large private investment banks, who were seemingly waiting for signs of stability within the Italian government after the Italian referendum result in order to commit to the recapitalisation, will still not guarantee the 5-billion-euro capital increase that they had promised in July, leaving the bailout in Italian hands.
 The Italian Treasury is ready to allow another week to the bank, then it will intervene directly to guarantee it liquidity. So the bank presses on with its plan of converting subordinated bonds into shares, without state guarantees and its shares collapse on stock markets by 16 percent.
 The European Central Bank has refused to give Italy's oldest bank more time for its capital increase, although MPS claims to never have received formal communication of this.
 Monte dei Paschi di Siena still needs an increase in capital of five billion euros to cover the difference between the value of the credit recorded in the budget and its actual sale price.
 The bank's administration, who met Sunday in Milan, made official their intention of reopening the terms of the deal to convert the subordinate bonds into shares in order to involve Italian small investors and to "start up a 'market book building' that attests the involvement of investors who have shown interest," Il Fatto Quotidiano reports.
 However, pundits said that these measures are just preparing the ground for an imminent state intervention. A state recapitalisation is looking likely as the big international banks who were supposed to intervene with the needed capital for MPS, will no longer form a guarantee consortium for the bank in-need, but will limit their role to doing their best to hand the shares from the increase in capital to the investors.
 Those shares that the banks do not manage to distribute to private investors will go to the state, which is currently the Tuscan bank's largest shareholder with 4 percent.
 With this plan, Siena thinks it will gain a few days, allowing the new government to settle and testing the waters with the supervisory authorities in order to see whether, under plenty of pressure, they might come around to a 'voluntary' conversion into shares.
 However, as Il Fatto writes, within a few days the new government will be forced to intervene, focussing their attention on problems that Renzi's government did not want to confront. Firstly, there is the question of how to reimburse the cheated bondholders, seeing as their bonds could be cancelled or forcible turned into shares despite their risk profile.
 It will be left to see whether Paolo Gentiloni's new government be able to launch in a few days a decree that the Finance Minister Pier Carlo Padoan and the previous government were not able to formulate after months of work.
  nkd