Rembrandt in the Vatican, images from heaven and earth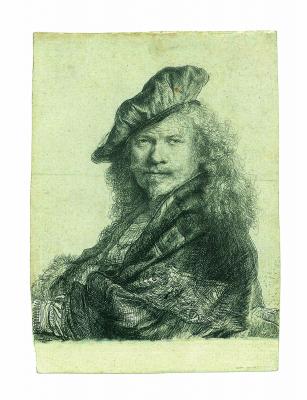 VATICAN CITY -- The Vatican Museums, The Embassies of Sweden and of the Kingdom of the Netherlands to the Holy See and in collaboration with the Pontifical Council for Promoting of Christian Unity have arranged the unique exhibition 'Rembrandt in the Vatican -- Images between heavens and earth.'
 The inauguration of the exhibition took place Nov. 23, 2016 under the presence of Her Majesty Queen Silvia of Sweden and Her Royal Highness the Princess Beatrix of the Netherlands, and will continue until Feb. 26, 2017.
 After the historical participation of Pope Francis to the Ecumenical Common Pray during the Commemoration of the Reform, Oct. 31, 2016, the significant presence of the Royal Families at the inauguration of the exhibition in Vatican highlights how this exhibition can contribute to strengthen the dialogue between Catholics and Protestants and their attempt to find unity.
 The works of the Dutch master Rembrandt Harmensz van Rijn (1606–69) have never been exhibited at the Vatican. The artist ranks as one of the greatest artists of all times. He is a virtuoso of light in both painting and printmaking. His career as a graphic artist began early and ran parallel with his painting. He constantly experimented and tested traditional materials in new ways to achieve various visual effects.
 Although Rembrandt never travelled and never visited Italy, it was precisely his prints that earned him his fame right across Europe and as far-reaching as the Italian peninsula. Equally many famous works of art were known to him through prints. The exhibition presents an overview over Rembrandt's range of topics, displayed iconographically rather than chronologically.
 Rembrandt's most important source of inspiration was the Bible and he returned to some subjects many times. As the son of a Protestant father and of a mother from a Catholic background, Rembrandt created his works out of both Christian traditions.
 The compassion for beggars and the poor, which is totally lacking in his painted commissions, is extremely present and remarkably explicit in his prints. Rembrandt is not looking for beauty in the first place, instead he is engaging the onlooker by eliminating any aesthetic categories, which could filter an immediate experience, and he is employing his genius to challenge the onlooker.
 When in his paintings he addresses the poverty and helplessness of ordinary people, there is also a shining light to be seen from above that indicates the always stronger divine grace and guidance.
 The exhibition -- curated by Johan Cederlund, Director of the Zorn Museum and by Arnold  Nesselrath, Delegate of the Scientific Departments and  Laboratories of the Vatican Museums -- is composed of 53 etchings coming from the Zorn Museum, Mora, Sweden, and were once collected by Swedish artist Andres Zorn (1860–1920) of whom are present a painting and two etchings.
 The oil painting by Rembrandt as well as the two copperplates belong to the Kremer Collection.
 The exhibition could not have taken place without the generosity of these two institutions.
 The exhibition is part of the exposition's route of the Vatican Museums.
 Timetable and how to visit: www.museivaticani.va
 nkd-gn