A visionary world in images by Marcello Nitti
Nitti's works on display in Stockholm
 STOCKHOLM -- Realism and abstraction seem to be two categories, generally applied to the arts, irreconcilable or opposite and yet, at least in the photography, sometimes turn out to be lying sides of the same coin, meaning that parts or details that exist in everyday life and embossed in a photo, they can assume a visual characteristic that makes them coexist together.
 This is what the Italian photographer from Apulia, Marcello Nitti, creates in his shots. Nitti, after making his debut in Sweden last year in a group exhibition in Gothenburg and later in an appreciated and dense one-man exhibition, always in the same city, is now conquering Stockholm, with an interesting exhibition in an important congress center of the Scandinavian capital.
 The feature of photos by Nitti have to correspond to actual material details that, in reflections games, lights and colors, are transfigured to take on abstract values ​​and are almost taken out of the reality which they are closely related to -- they become almost visions that seem distant and fantastic but that instead fit with the environment from which they arise.
 Twelve pictures in panels are set at Convention Center No.18, in the heart of the northern capital, until Dec. 29, in a photographic art synthesis that encompasses twenty years of research, experimentation and passion for light, shape, colour and music, with a creative commitment free from digital manipulation, despite this being characteristic of digital photography.
 Essentially, Nitti 'paints' with the camera creating graphic images he sees in everyday life.
 He was introduced by the curator and architect Ariel Ramirez; among the hosts at the event was Mr. Walter Di Martino, vice head mission at the Italian Embassy.
 Address:
 Birger Jarlsgatan 18
 114 34, Stockholm
 Stockholms Län
 Sweden
 0736 - 504 822
 nkd-gn
Photographs on display in the gallery. Photo Credit: MaLou Sundgren-Danell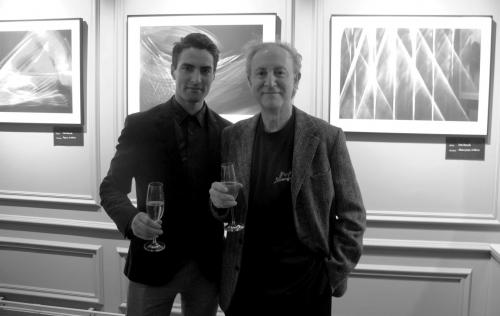 From left -- curator Ariel Ramirez with Marcello Nitti