Top Polish companies win 'Exporter of the Year' awards
Polish Ambassador to Italy, Mr. Tomasz Orłowski (centre), joined by representatives from Morpol ,PZL-świdnik, Comarch and Eko-Okna
 ROME -- The second edition of the prestigious 'Exporter of the Year' award ceremony was held Friday at the Polish Embassy celebrating the best exportation results of 2015 from Polish companies working in Italy including KGHM, one of the world's biggest copper and silver producers.
 Receiving the award for best Polish exporter in Italy under the category of raw materials was KGHM Polska Miedz. The mining and metallurgical company is increasing global copper production by around 700,000 tonnes, whilst still actively cooperating with local communities through providing jobs and running various initiatives which aim to reduce the environmental impact of their work.
 CEO of KGHM, Radosław Domagalski-Łabędzki, was unable to attend the ceremony due to external commitments, yet wrote a letter upon receiving of the award, stating, "From an economic viewpoint, Italy is one of the most important companies in Europe and in the world. It is the eight economic power in the world, and the fourth in Europe. For us, it is a unique occasion to be able to learn from some of the strongest in the market, to compete with companies of the same potential, to acquire the knowledge and capacity to be able to win the battle of confidence with our clients and partners through the innovation and quality of our business," in a letter read out to the audience of businessmen and women and journalists.
 Next to be awarded for their work in global IT solutions for businesses was Comarch, founded in 1933 in Krakow. The company operates in Italy with four lines of business, consisting of finance, telecommunications, trade services and healthcare, working with companies across the globe such as UniCredit, Heathrow Airport, JetBlue Airways and Mercedes Benz bank.
 Morpol, founded in Ustka in 1996, was presented with an award as global leader in the production of smoked salmon, using smoking rooms of a special structure and style which produce salmon of the highest quality. The company has benefitted from fruitful relations with Italy since 2007, when representations were opened with Japan, the United Kingdom, France and the United States also.
 Continuing onward with the ceremony, Eko-Okna, founded in 1988, was presented with an award as one of the principal producers of windows in Poland. Their windows are sent to clients all across Poland and indeed Europe, including Italy, France, Belgium and Switzerland. In terms of revenue, Eko-Okna is the second largest producer of windows in Poland and among the top five in Europe.
 Finally, the PZL-świdnik company came up to the stage to receive an award. The Polish aeronautical company was founded in 1951 and is now one of the largest constructors of helicopters in Poland, having produced over 7,400 helicopters over their 60 years of experience.
 A special honour was bestowed upon Riccardo Maria Monti, former president of ICE (the Italian Institute for Foreign Trade) and current president of Grandi Stazioni, who was chosen by the Polish Minister of Foreign Affairs, Witold Waszczykowski, to receive the 'Bene Merito' award due to his "profound knowledge of Poland and its economy, as well as his help towards the Polish diplomatic mission in Rome through numerous important events organised with the goal of raising awareness and promoting friendships between Polish and Italian economic representatives, developing fruitful and beneficial commercial partnerships."
 sw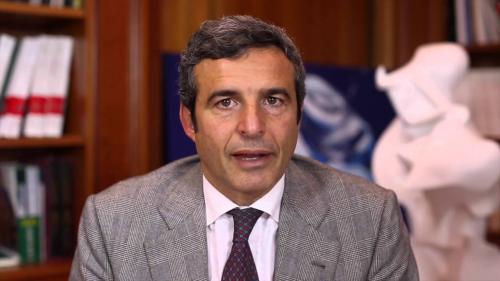 Riccardo Monti, president of Grandi Stazioni