Elephant crafted by Bernini vandalised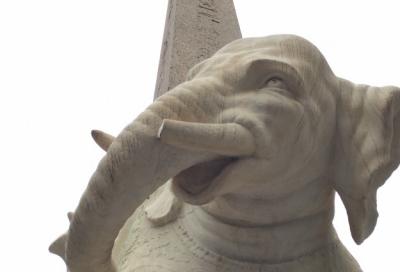 Bernini's elephant, found in the Eternal City, has been damaged overnight
 ROME -- The iconic elephant of Piazza della Minerva of the Eternal City, crafted by the Italian artistic mastermind Bernini, has been "irreversibly damaged" as a tusk has been broken.
 Yet another wound to the artistic and cultural heart of Rome -- Bernini's famous elephant sculpture, one of the well-known symbols of the historic city centre, was vandalised at some time between Sunday night and Monday morning.
 Someone has broken the fang of the sculpture. The damage is serious, yet fortunately the missing piece was found by the foot of the monument by Trevi police guards and shall soon be reattached.
 The creature is found at the base of the Egyptian obelisk in Piazza della Minerva, one of the 13 ancient obelisks of Rome. Bernini's work was inspired by Francesco Colonna's romance 'Poliphilo's Strife of Love.'
 Nathalie Naim, city councillor for Rome, commented on the incident over Facebook, claiming, "It is a sad fact that this is the umpteenth destruction of some of our most important monuments, which are left -- just like everything in this historic territory -- at the mercy of thugs, left for the responsibility of central and national level politics. Police have recovered the tusk, but it is essentially an act of irreversible damage, just like that of the Barcaccia and so many others."
 sw