A 'total art' experience at Bruno Aller exhibition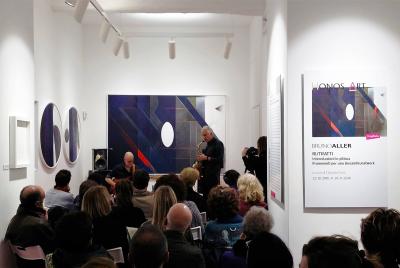 Live performance amongst Aller's paintings
 ROME -- 'Ri-Tratti Portraits. Interconnections among paintings. Fragments for a gesamtkunstwerk' is the latest exhibition by painter, sculptor and engraver Bruno Aller, curated by Daniela Fonti at 'Honos Art' gallery. As part of Rome Art Week, a live music event was held in the exhibition space Friday in celebration of contemporary art, and in an attempt to create a complete fusion of different art forms -- a total artwork.
 The subtitle of the exhibition "gesamtkunstwerk" alludes to the 'total/all-embracing artwork,' as theorized by the German opera composer, Richard Wagner, in which poetry, music, philosophy and painting converge.
 The musical project performed that evening is called 'Miraluna,' half-composed and half-improvised by saxophonist John Heineman, and guitarist Diego Rughi, working towards the idea of a gesamtkunstwerk, a fusion between the paintings on the walls, and the live saxophone and guitar music played over the pre-recorded sounds, which featured spoken words and fragments of poetry by Mario Lunetta, Lamberto Pignotti and Aller himself.
 "I do not believe so much in this mixing and fusion of different art forms, usually it seems an insurmountable task, but knowing Bruno and his intense interest in all types of music…Bruno's work is very musical," John Heineman concluded.
 Aller's big abstract, colourful canvases stand out at you from the white walls. The masses of colour, like the ensemble of sounds swelling to fill the room, become raw emotion. They incite an instinctive, primal and warm emotive response.
 One of the links between the paintings and their music is their work with voices, Heineman implied. "There are words behind these paintings," said Heineman, "and I have always heard the spoken voice as a type of music." Aller's paintings are visual poetry -- patterns and lines fitting together to create an overall emotive response. Instead of these line patterns being imbued with meaning as the line patterns of words have come to be, the colours here are his way of speaking to us.
 "The total artwork that Aller reveals with his work is for the artist the tautological and totalizing dimension of painting. What at that time was thought to be universal, can now not be anything but a tiny fragment of an individual experience," said Daniela Fonti.
  'Honos Art' is an intimate modern exhibition space. For this exhibition, the walls were traditionally painted in a bright white neutral colour, while the floor was painted in a garish vibrant red -- the same bright red as that which stands out in Aller's paintings. In this way, the whole room and the people in it, seemed to become part of this all-encompassing work of art.
 Together with the colours echoing around the whole room, on top of this the music seemed to put the audience into a bit of a trance, transfixed and taken in by the melodies and deep sounds, played over recorded poetry mixed with musical interventions, all digitally altered. The effect was certainly a true "gesamtkunstwerk."
 "The origin of Ri-Tratti is not a conceptual impulse, a 'game,' nodding to historical avant-garde (from Apollinaire to Breton and Masson) up to its 'accomplices' 'visual' poets, that creates the compositional structure from the literal name sequence. I would say that it is a complex mechanism of concealed resonances and analogical grafts that may find its origin in a written page, a rediscovered verse, an emotion or just an echo of a remote affinity," said curator Fonti.
 The live music event held at the gallery was part of RAW -- Rome Art Week, a project that involves the whole city, to encourage the celebration of contemporary art in the capital. Institutions, galleries and artists open up their own spaces to the public for free, for shows, events and open studios.
 This exhibition at 'Honos Art' contemporary art gallery will run until Nov. 26.
 nkd
Diptych Ri/Tratto VIII Mahler's Symphony by Bruno Aller