Japan-Italy celebrate relations and promote cooperation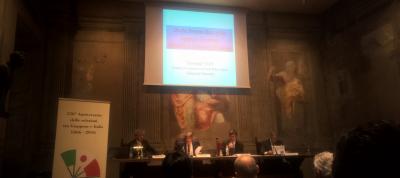 Japan-Italy conference in Rome's Palazzo Baldassini. Photo Credit: Nathalie Kantaris Diaz
 ROME -- Japanese ambassador to Italy H.E. Kazuyoshi Umemoto commemorated a fruitful year for Italo-Japanese relations and for a deepening of a mutual understanding between the two countries on a cultural, political and economic level at the 150th anniversary conference for the establishment of Japanese and Italian diplomatic relations, held Wednesday at Palazzo Baldassini in Rome.
 Ambassador Kazuyoshi Umemoto spoke about this year as being key in the development of relations and understanding between the two countries. "This is the year that the Japanese Prime Minister and Foreign Minister have both visited Italy, and their Italian counterparts have both visited Japan in separate visits," he said, giving testament to a growing mutual interest and exchange, "unprecedented in the number of visits."
 "In the cultural field, mutual understanding has been deepened. Exhibitions of Caravaggio, Botticelli and Da Vinci have been held in Japan this year, and exhibitions of Buddhist sculptures, Japanese photography and other Japanese-related cultural items have been held in Italy this year," Umemoto continued.
"Of course, we share such fundamental values as liberty and democracy," he said, but "occasionally, the different, particular problems that affect Japan or Italy can be difficult to properly understand for the different respective countries -- for example the migrant crisis in Italy can be hard to fully comprehend in Japan," but he called for a strong attempt at mutual understanding between the two countries, and used the example of this symposium as precisely a brilliant way to foster this.
 When asked what Japan is doing in terms of cooperation with Italy in terms of its current social problems, Umemoto replied that Japan is committed to helping African countries develop their own economies, which indirectly works towards helping the migrant crisis by targeting it at its source.
 "We very much hope that Italy will play a leading role in promoting Japan in Europe, as this will facilitate dialogue with Italy and the rest of Europe," concluded the ambassador.
 Aug. 25, 1866, Japan and Italy signed the 'Treaty of Amity and Commerce,' beginning a partnership that ever since has grown in quantity and quality. After 150 years of diplomatic ties, what are the current opportunities, and challenges, of their relationship?
 Ettore Greco, the director of the IAI (International Business Institute) -- one of the key organizers of the event, opened the morning's speeches with an overview of past and current relations, saying that relations between Japan and Italy properly "flourished after the Second World War," and now "both countries are looking for new ways to revive their economic growth and to boost international economic growth."
 Greco said that Italy and Japan share many positions and objectives within the international organizations they are both part of, like the UN and G7 for example. A key point for cooperation is the fact that Italy will soon take over the G7 presidency role from Japan in the next few months.  
 Massimo Gaiani, the Director General for Global Affairs, Italian Ministry of Foreign Affairs and International Cooperation, agreed with the ambassador that Japan and Italy share many values, such as "democracy, human rights and market economies," but highlighted that where the countries could now make progress is through implementing shared ideas. Both countries "are together in the same effort to promote peace, in their stance on security, and in their work towards sustainable and inclusive development."
 In terms of security, "the growing threat of North Korea nuclear weapons" is a serious one for Japan, as well as for Italy and the rest of Europe. Also maritime security is another big issue and part of the agenda of the G7. In fact, Japan and Italy will soon be put together in the security council of the UN.
"The three main focuses of the Japanese G7 presidency are women -- in parliament and management, health, and quality infrastructure, and these will continue to be the three main focuses of Italy's presidency," continued Gaiani.
 Japan and Italy have similar views on the role of women in economics and economic processes in both countries. They both see giving a technical education to girls as being "key in promoting this new incoming labour market, as technical jobs will be the jobs of the future," Gaiani concluded.
 Italy and Japan have a major role to play in promoting their shared values of democracy, human rights and market economics at the regional and global level. In the context of the EU-Japan partnership, Rome and Tokyo are cooperating on a Framework Agreement covering not only political dialogue and foreign policy coordination, but also regional and global issues, and a Free Trade Agreement to stimulate growth on both sides.
 The conference was organised by the Istituto Affari Internazionali (IAI) -- International Business Institute -- and the Italy-Japan Foundation, in collaboration with the Japanese Embassy in Rome and the Italian Ministry of Foreign Affairs and International Cooperation (MFAIC).
nkd
The Italy-Japan Foundation is one of the key organizers of the event