Sant'Egidio slams Unesco for 'pro-Palestinian bias'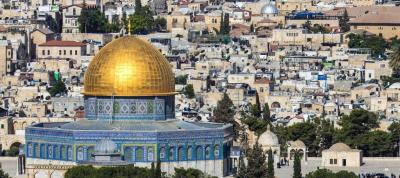 The Al Aqsa Mosque on Temple Mount in Jerusalem
 ROME –  UNESCO is supporting only Palestinian interests regarding Muslim holy places in Jerusalem and disregarding the need to protect Jewish and Christian holy places in the city, the Sant Egidio community said Friday.
 Sant'Egidio says it disapproves of a recent Committee Resolution of the UN Cultural and Scientific Organisation 'External Relations Programme' regarding "the protection of the cultural heritage of Palestine and the distinctive character of Jerusalem," according to a statement issued by the influential Rome-based Catholic movement that has mediated in a number of international conflicts and diplomatic disputes in the past.
 The choice to exclusively use the term 'Nobile Santuario' (Sacred Place), which in Arabic means the mosque of Al-Aqsa, and ignore the Jewish term 'Temple Mount,' appears to contradict the vocation of the international organisation entrusted with protecting and defending the cultural heritage of the world, thus implying political motives, Sant' Egidio said.
 The text, adopted by the Unesco Commission, in spite of what Sant' Egidio said were 'bewildered' reservations expressed by the UNESCO General Director, Irina Bokova, goes against the 1000-year-old bond between the population of Israel and the site of the Temple Mount, Sant'Egidio said.
 "In this way, as well as offending the religious sensitivity of thousands of Jews, irrefutible historic and archaeological evidence, that does not put into discussion the holiness of the area for believers of the other religions, also is ignored," the statement said.
 "Jerusalem, whose name means 'city of peace,' should no longer be exploited for political purposes but should become a place of harmonious cohabitation in a renewed search for peace through the necessary dialogue between Christians, Jews and Muslims," the Sant' Egidio statement said.
 The text, which touches on Israel's management of Palestinian religious sites, refers throughout to the al-Aqsa mosque compound site in occupied East Jerusalem's Old City only by its Muslim names: al-Aqsa and al-Haram al-Sharif.
 Al-Aqsa Mosque compound is the third-holiest site in Islam. Jews refer to the site as the Temple Mount.
 Palestine's deputy ambassador to UNESCO, Mounir Anastas, told reporters the resolution "reminds Israel that they are the occupying power in East Jerusalem and it asks them to stop all their violations", including archaeological excavations around religious sites.
 The UNESCO resolution also condemned Israel for restricting Muslim access to the site, and for aggression by Israeli police and soldiers, while also recognising Israel as the occupying power. 
 jp-sw