Through sports economic and social growth win the race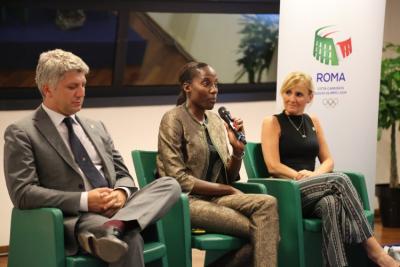 From Left: Simone Perillo, Fiona May, and Diana Bianchedi at the event. Photo Credit: ROMA2024
 ROME -- A meeting organised by the Rome 2024 Olympic bid team, along with the Commonwealth Club of Rome (CCR), focussed on sport as an opportunity for social and economic growth.  The CCR is a non-profit organisation that was created to encourage dialogue between Italy and those nations associated with the wider international organisation and has representatives of those nations hosting the upcoming Commonwealth Games.
 This event, therefore, had two key aims.  The first was of sharing the vision and key points that Rome 2024 feel will win them the bid, along with introducing the next Commonwealth Games, whilst their second target was to discuss the social and economic advantages brought by both events to the countries that host them.
 Those participating in the event included the General Coordinator for the Bid Committee, Diana Bianchedi, the head of athlete relations, Fiona May, the head of international realtions, Simone Perillo, the Chairman of the Commonwealth Club of Rome, Edward Mura, the Deputy Ambassador for the Australian Embassy in Rome, Jo Tarnawsky, and the Political Counsellor for the South African Embassy in Romw, Mpho Ndimande.
 May, who has personally participated in both the Olympic and Commonwealth Games, said, "I look back on my experience living in the Olympic village as an athlete, there are no differences; there's only sport, fun, and feasting.  That's the important legacy that Rome 2024 wants to give the nation, and I'm representing athletes to help achieve that goal."
 Bianchedi emphasised this point, saying, "We want the Olympics to offer our nation the best possible future, and to create an extraordinary opportunity to open up to, and meet with, the world: that's why we're thinking of having the Olympic torch reach Lampedusa."  This inclusion of all people, and reaching out to migrants, ties in to past events that the bid committee has held, trying to help integration through sport and making it accessible to all.
 The Commonwealth Games will next be held on Australia's Gold Coast in 2018, therefore Tarawsky was keen to explain their position: "We're expecting a flow of 6,600 athletes and team members as well as 15,000 volunteer to help organise the event on the Gold Coast.  According to our forecasts we'll have 1.5 million spectators and an economic impact estimated at around two billion dollars.  Basically, it will be the biggest sporting event in Australia since Sydney 2000 and Melbourne 2006."
 Ndimande, speaking for South Africa, who will host the Games in Durban in 2022, said, "A study by the World Tourism Organisation estimated that the global sports tourism market is worth 450 billion euros and is growing by 14 percent annually.  The impact of tourism on nations hosting sporting events of any size has always been positive, both in the short and long term.  But the Games we are organising will, first of all, be an opportunity to propel South Africa into the future, to improve the quality of life for citizens by creating new roads, airports, telecommunication systems, and sporting infrastructure."
 ch