Wall of kindness at Marymount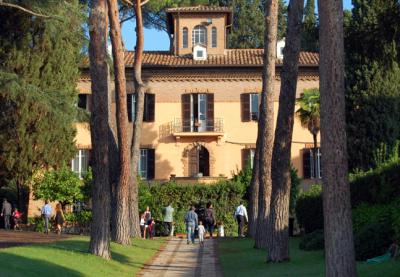 ROME -- A "Wall of Kindness" was being created at Marymount International School on Saturday March 19, which will be inaugurated at 12.30 p.m. on Via Cassia 1762 (La Storta), whilst running from 10 a.m. to 1 p.m.
 The project has gained the backing of the Rome Municipalities and was inspired by the "Wall of Kindness" created in Iran last year, therefore will follow some of the same principles: "Leave what you don't need, and take what you do," a phrase that will also be written on the wall to help decorate it.
 Whoever would like to pass by and hang items of clothing that they no longer need or want, to be given to those in need, are very welcome.  Any children who attend the inauguration will have the chance to leave a handprint on the wall, to show that they were there.
 Representatives at the inauguration will include Rome Municipio XV member Daniele Torquati, their president, and the president of their environmental commission Marcello Ribera, all of whom believe in and have adhered to this community-welfare project, which will give Rome's citizens the opportunity to show a little 'kindness' and social responsibility towards a less fortunate section of the community.
 This idea was formulated thanks to a project that Marymount International's Grade nine students undertake each year in their Italian Literature class, which takes them outside the school's boundaries to try and find connections between the things they are studying and what is around them.  These particular students were studying "Dolce Stil Novo" and focused on the word 'kindness'.  The Italian literature teacher and Head of the Italian Department at Marymount International, Giovanna Iorio, loved her students' ideas on the social emergency situation in Italy (and further afield), therefore it was from this point that they developed the 'Wall of Kindness' as a real response to the situation and the need for kindness in everyday Rome, particularly in the face of those who need in most.
 The Municipio representatives have said they would like to "thank Marymount International School and in particular Professor Giovanna Iorio for this fantastic social welfare initiative, and Ama Roma S.p.A for conceding their location on Via Cassia 1761 (La Storta) for the creation of the mural and the "Wall of Kindness", as well as the Scout Group Agesci 2 who have given their availability to take care of the "Wall" and upkeep it in the future.  The "Wall" will be created in a particular area, on the Via Francigena, and will be a beautiful symbol of solidarity for the pilgrims arriving to Rome for the Jubilee of this Year of Mercy. We'd like to invite all those who live in Rome to participate by attending the inauguration and support this initiative with a simple gesture of solidarity."
 Anyone who would like to leave his or her handprint or any old clothing on the 'Wall of Kindness' is very welcome.
 You will be able to find updates on the project here: https://medium.com/@giovannaiorio_79725/1-storyboard-il-muro-della-gentilezza-2caa9b41b9d2#.67d6xqcfj