Scotland to share their tipple with the Romans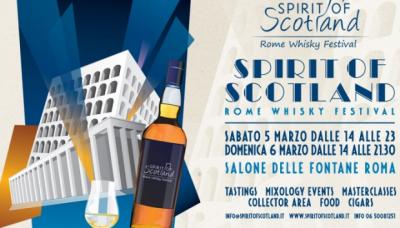 ROME -- March 5-6, the Spirit of Scotland – Rome Whisky Festival will once again be taking place.  Now in its fifth year and involving the best national and international companies, the event will celebrate the use and dissemination of malt whisky culture, appreciation and its voyage through the interaction between businesses, education and entertainment events.  It will be a showcase aimed at creating links between participating companies and a large audience of employees in the sector, enthusiasts and newbies.
 Taking place at Salone Delle Fontane in the EUR district of Rome, this festival will be one of the biggest Italian demonstrations in its sector.
 Spirit of Scotland are offering a rich programme of events, including tastings, master-classes, seminars on the mixology of whisky, as well as meetings and question and answer sessions with experts from the industry, with the objective of creating an experience that contains everything you could wish to discover on the subject of single malt.
 There will also be blind tastings, bottling demonstrations, tasting sessions for the malts that have won prizes such as 'Best Scottish Malt' and 'Best World Single Cask' and a talk explaining the "Magic World of Scottish Malt", detailing its origins, characteristics and the tasting techniques so that you can get the most out of your Spirit of Scotland experience.
 The event will be open to the public from 2-11p.m. on Saturday March 5 and frm 2-9.30p.m. on Sunday March 6, with tickets available online at spiritofscotland.it or on the door.
 ch