Italian rail sign contract for new Iranian high-speed lines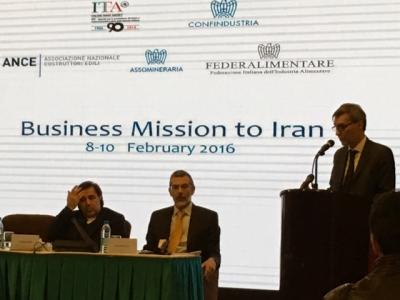 ROME -- The state-run Italian Railways company, Ferrovie dello Stato (FS), has just launched a new venture with Iranian Railways (RAI) to put new high-speed rail links in place between Teheran and Hamadan, and from Arak to Qom.
 The Iranians have chosen the excellent example of Italian high-speed rail to make their new lines a reality.  The new high speed and conventional rail materials will be sourced from Italy, along with the training of rail operators and the implementation of a testing centre being put in place by the Italians.
 The main players from Italy's FS Group were in Iran today for the signing of the contract between Iran's Vice Minister for Transport and the president of Iranian Railways, Our Sayed Aghaei, and the managing director of FS Italiane, Renato Mazzoncini.  The signing took place in Teheran in the MOU (Memorandum of Understanding) centre.
 With today's agreement the FS Italiane Group are confirmed as being first in line for the development of the rail network in Iran with the creation, planning, construction and putting in operation of the high speed rail lines from Teheran-Hamadan and Arak-Qom.
 Moreover Italcertifer will be working on the preliminary design for Iranian Railway's Test Centre, where the infrastructure and rail equipment will be tested with avant-garde machinery.
 Thanks to today's agreement FS Italiane will provide assistance to Iranian Railways in their search for the materials for the new rail system in Italy, as well as providing a complete training programme for the Iranian railway staff.
 Italferr, the engineering society for FS Group, have also obtained a contract to provide technical assistance to Iranin Railways on their high-speed rail project running from Teheran-Qom-Isfahan, a distance of around 400 kilometres.  The Iranian rail network infrastructure extends over around 10,000 kilometres currently, though they hope to increase this reach to cover another 25,000 kilometres by 2025 – of which 7,500 kilometres of new train lines are already under construction.
 All the cooperation's commitments from the MOU will benefit from a loan on the basis of export credit.  Sace and Cassa Depositi, as well as Prestiti (CDP) have already issued two separate letters for offers of general interest for the rail projects in Iran.
 The complex value of the export credit operation for these Iranian rail projects could bring in around 5 million euros.
 ch