Brexit - Renzi's view on Britain's plight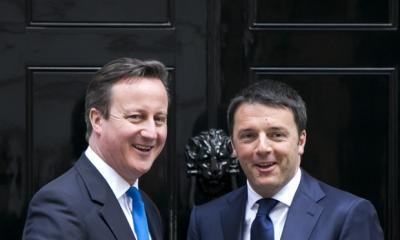 ROME -- In Monday's phone call between Italian Prime Minister Matteo Renzi and British Prime Minister David Cameron, it has emerged, the British leader covered various dossiers and the theme of the European reforms that will be discussed at the European Council at the end of the month.  After discussing EU growth with Cameron, Renzi later warns in an interview with Bloomberg in Rome that "Brexit would be a terrible situation for the UK.  But I'm betting on David".  He also mentions that he can see European leaders reaching an anti-'Brexit' deal at the summit next week.
 In the first time he has spoken out on the proposed agreement between Britain and the EU, designed to stop Britain leaving the Union, Renzi has said it is his duty to back the British premier because of the terrible consequences that would befall Britain if the talks are not successful, stating, "We cannot permit that the lack of an agreement causes Brexit."
 At the summit, which will take place on February 18-19, Cameron hopes to secure backing of the EU leaders for proposals by EU President Donald Tusk for a four-year "emergency break" on welfare for migrants arriving from the EU.  The idea is to protect the UK's financial system from any euro-area interference and to give more powers to national parliaments.
 Renzi adds that the "proposed changes are a good compromise" and that "Europe must change its vision and its strategy or it's finished".  This comes after his demands for a movement away from austerity to growth, in addition to budget flexibility for spending on migrants.  Calling for talks during and after the referendum the Italian Prime Minister wishes to "stress an economic agenda for growth and cut bureaucracy" at the heart of the EU, adding that "We are worrying about the possibility that Schengen could end.  Without the Schengen Agreement Europe's identity is at risk."
 With Greece and Italy being the two countries to bear the brunt of the highest refugee influx, the Italian leader touches in particular on the fact that immigration will be the key theme in the EU for the next 12 months, "We need an agreement with the African countries involved that we will develop their infrastructure and invest in these places."
 According to Renzi German leader Angela Merkel is another who will be backing Cameron next week, "Angela will commit to helping David," he states, "She is a leader and the referendum is risky but it's a step in the right direction."
 ch