Israel comes to Rome in new exhibition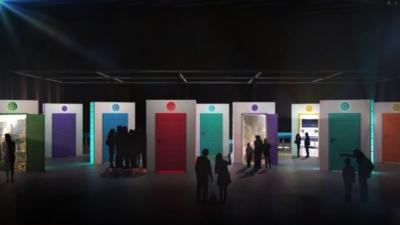 The exhibition's 9 doors lead visitors through all aspects of life in Israel
 ROME -- A new exhibition on Israel opened on Thursday at the Palazzo Vittoriano in Rome, its first showing in a world tour that is to cover France, the US, China, Russia, Japan and Brasil, among others.
 The project, entitled Open a door to Israel, was organised by the Israeli Minister of Foreign Affairs Joel Lion, and brought to Rome by Israel's ambassador to Italy, Naor Gilon, after years of preparation and planning. In a press conference in Rome Gilon said that the exhibition hopes to shed light on everyday life in Israel, showing its "cosmopolitan feel and spirit of solidarity with the world" and allowing the public to see the country and its people in an enriching way rather than through the cold light of the media.
 He lauded the choice to open the showcase in Rome as "a symbol of the important relations which unite our two countries and our two peoples."
The exhibition's very interactive nature and almost futuristic set-up is testimony to the country's technological innovation. The display is made up of nine doors, each one opening onto a different facet of Israel to be explored and representing what minister Lion called "nine shared values of the world:" family, cultural heritage, innovation, adventure, responsibility, expression, education, relationships and hope.
 From relaxing on a beach in Tel Aviv to sharing a traditional dinner with an Israeli family to loud music and dancing at a Jerusalem street party, the exhibition showcases an "energy and spirit" that unites nature and culture, past and present.
 The exhibition will be on display in the Vittoriano complex in central Rome from Jan. 21 until Feb. 11 this year. Entrance is free.   ft
Israeli ambassador to Italy Naor Gilon formally opens the exhibition