Controversial foibe exhibit to open in Venice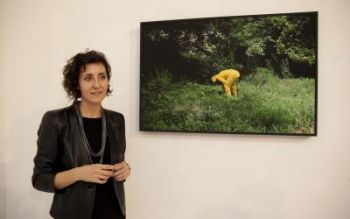 Mariotti with a previous piece of art
  ROME - An exhibition entitled "Dawn on a Dark Sublime", the masterpiece of artist Silvia Mariotti, investigates an extraordinary natural phenomenon, which is characterised by a strong historical connection - the artist has chosen to photograph foibe: vertical caves, chasms, large sinkholes found in Istria and Carso.
  The foibe are a controversial subject, both in the public debate and in the exhibition by Silvia Mariotti, in which notions of sublime nature intertwine with historical thought. Photographs, videos, sculptures and sound installations convey a double-edged terror: the magnificence of nature, depicted as acting on the perception, but it also implies historical implications. The title is a a reminder, an attempt to shed light on a subject through artistic research. 
 Thousands of Italians were murdered by Communist Yugoslav partisans who threw them into the foibe at the end of the Second World War in revenge massacres for the Fascist Italian occupation of the area that still taint relations between Italy, Slovenia and Croatia.
  This is an unpublished work, displayed for the first time at the Galleria A plus A from November 14, consisting of fifteen works, including sculptures, photographs, video and sound installations, the result of study that Silvia Mariotti has conducted for more than two years. These are works that the artist has developed directly by seeking out caves that have been abandoned for decades and which are only known to local people. 
  Well-known predecessors have attempted similar tasks, with Felix Nadar being the first to go, armed with a camera, to explore the underground of Paris in 1861, taking photos of the sewers and catacombs of the major metropolis. Similarly to that of Nadar, Siliva Mariotti's discovery is a sublime discovery. 
  The foibe have recently become a symbol of Italy and Istria's history. Like Pandora's box, these caves appear to contain all the evils and sufferings of the twentieth century. They have become the catalyst of ethnic hatred, of war crimes against the Italians and local population, have experienced the great trauma of exile and the injury to the country, created by the two world wars. But these caves are also natural phenomena. They don't only speak of 20th Century European history, but also of nature, geology, literature, psychology, theology, mythology and aesthetics. 
  Siliva Mariotti was born in Fano in 1980, and lives and works in Milan. She primarily uses photography to question our surrounding habitat, finding links between the natural and artificial. In all of her works, she tries to experience places and people to better reflect the environmental and social situation in which we live. 
  The exhibition is curated by Aurora Fonda and Sandro Pignotti, and is accompanied by a catalogue, with texts by Paolo Fonda, Rebecca Moccia, Sandro Pignotti and Marta Verginella. It will remain open until the day of remembrance, February 10 2016. 
  Open Tuesday to Saturday from 11:00 to 18:00. Sunday by booking only. 
  For more information: Galleria A plus A
  San Marco 3073
  Venezia 30124
  T + 39 041 277 04 66
A photograph on display at the exhibit