Greek hideaway in Aristotle's footsteps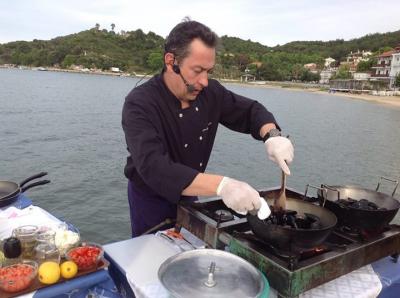 Fried mussels: a highlight of the Kouzina festival
OLYMPIADA – Greece may be struggling to avoid economic doom but there is little sign of such turmoil in this peaceful seaside resort nestling under Mount Aristotle, the birthplace of the ancient philosopher, whose reputed hobby of cooking has inspired an annual culinary festival attracting tourists from around Europe.
 The annual Kouzina festival at Olympiada in the Calcidica peninsula, a stone's throw from the monasteries of holy Mount Athos, offered a chance to sample a constellation of recipes based on fish and sea food served by renowned Greek chefs Pasquale Lembo and Louloudia Alexiadou.
 Using herbs, plants and fruit from Mount Aristotle, their dishes served at convivial tavernas on the seafront of the town of 600 people combined the fresh flavours of the nearby forest with dazzling fish and mussels. Italian dishes also featured as the 2015 edition of the festival was dedicated to the Milan Expo universal exposition.
Many of the inhabitants, including Mrs Luoludia, the charming owner of the comfortable Liotipi Hotel where a visiting group of reporters stayed, are descended from Greeks who immigrated to the area from Saint Kirikia in Asia Minor in the great population exchange between Greece and Turkey in the 192os. The quality of exquisite hospitality makes a guest feel like an Ottoman pasha.
 Seated at a taverna in the cool of the evening, the laid-back young Olympiada mayor, Fiannis Petrakis, explains that the town has been relatively unscathed by the economic crisis that hit Athens and other big cities. In addition to tourism the town boasts a gold mine that is the principal employer, exporting to China, while surrounding farmland and fishing means citizens are self sufficient in food.
 Should a vistor tire of the stunning sandy beaches under Mount Aristotle, sidetrips available include a boat ride to the nearby island of Kapros where Olympiados, the mother of Alexander the Great, reputedly was confined by Philip for playing away from home.
These days only cormorants live on the island, a quintessentially peaceful place to stop for diving on your way to the local mussel farm where Albanian and Egyptian migrant fishermen are happy to cook their produce on a wood fire, offering a gargantuan meal washed down with gallons of ouzo.
 Also recommended are jeep trips to the Natura pathway where a grizzled local guide led us on a hike to magical waterfalls.
 The trip climaxed with a "mad sea dance," an ode to the sea and its products at which chefs Lembo and Smaro Andriotis created unique culinary images and flavours purportedly passed down from Aristotle's days.
 Easy access from Rome or Milan give Olympiada an advantage over other Greek destinations such as Crete, Rhodes or the Cyclades islands. A budget flight from Rome's Ciampino Airport to Thessaloniki takes just over an hour and Olympiada is then just an hour's drive away, meaning one can be lazing on the sun-drenched beach by 9am after an early start in the Eternal City.
A beach at Olympiada with the isle of Kapros in the distance