Review: The September Years of Miss July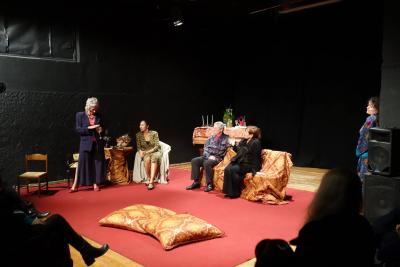 Photo: The September Years of Miss July
Rome - The backdrop of a Playboy reunion, 25 years after being part of the Hefner mansion, provokes an interesting platform of dialogue, dwelling on ideas of identity, dreams and fulfilment in life. Focussing on four former playmates we see how differing lives beyond the mansion affected their values and respective views on the world. These reflections combined with a vibrant performance from the cast, create a powerful spectacle surpassing the initial light-hearted setting with which the audience is presented.
 The four women each have a shared background with their stint in playboy and discuss how this all-encompassing lifestyle encouraged their following steps whether in business, forming a family or sticking with the adulation of beauty with a career in Las Vegas.
 Despite the brevity of the production, the director and writer Mary Ellen Bryngelson manages to bring an interesting complexity to the characters; satisfaction or appreciation of success is presented as a factor which is weighted on the characters' perception of their choices rather than the choices themselves.
 The second act, resuming their four lives three years on, presses the point of subjective satisfaction further; each character made substantial changes in their lives but not all of them see this as a realisation of their dreams.
 The play feels complete in its objectives, treading a fine balance between the humour and slightly superficial background and its pensiveness about success and meaning. A lively cast and the intimate setting of the theatre makes The September Years of Miss July a rewarding experience.
The September Years of Miss July at the Teatro Cantiere, Rome
Directed and written by Mary Ellen Bryngelson
Cast:
Gabrielle Chiarraro
Suzanne Bono
Natalie Accornero
Francesca Maggi
Bill Guion
Giada Benedetti
Kate Florence Wright
Lia Montereale