At FAO, Kuwait speaks out on obesity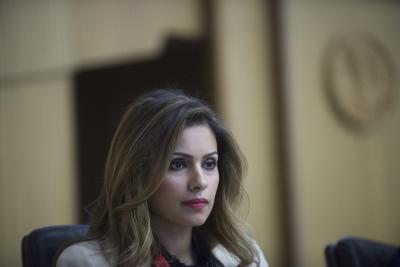 Dr Sarah Al Rakayan. Photo credit: KUNA
ROME – Dr Sarah Al Rakayan outlined Kuwait's plans to combat an ever-changing food culture at a panel at FAO's international conference on nutrition this week.
 Dr Al Rakayan, a researcher at Roma Tre University and Consort of the Kuwaiti Ambassador to Italy, H.E. Sheikh Ali Al-Khaled Al-Jaber Al-Sabah, reflected in her speech on the changes recent years have brought.
 She said, "I remember when I was a child the social scene was gathering with the family, a relaxing saffron tea, probably with biscuits, and end it off with a cardamom enriched Arabian coffee with a couple of delicious and nutritious dates. Unfortunately, those days are over, as the social scene now revolves around food. Every gathering is like a banquet! Now, young adults and even teenagers meet at restaurants on an average of 2-3 times a week. It's a whole new culture that is killing us slowly."
 The Kuwaiti delegation to the conference includes Health Minister Dr. Ali Al Obaidi, as well as other senior members of government, indicating, "Kuwait's sincere interest in this conference and its objectives." Kuwaiti leader the Emir Sheikh Sabah al Ahmad Al Sabah has recently been named a humanitarian leader by UN Secretary General Ban Ki-Moon, further demonstrating the country's dedication to working with the UN on food and health issues in both the Middle East and worldwide.
 Dr Al Rakayan's speech on Thursday focused upon the increasing rate of obesity in Kuwait, and how the government is taking action and drawing on knowledge from other countries to tackle the problem.
  She explained, "For the first time in human history the number of overweight people rivals the numbers of underweight people.  Children who are naturally known for being physically active are getting more and more used to a sedentary lifestyle. They are pinned to their chairs by technology, they are bombarded daily by advertisements and images of fast food, the average preschooler (three – five years old) child sees three ads per day for fast food, and this is the age when we are trying to make them like their veggies; it isn't fair for the kids or the parents. These ads wont just stop on their own, statutory controls and government actions are required.
 "The Ministry of Health has developed a national plan and assigned tasks to different divisions to combat the burden of non-communicable disease in Kuwait, the plan is in line with the WHO global and regional non-communicable disease action plan, which has been adopted by the health secretariat of the Gulf Cooperation Council."
 As well as childhood obesity, Kuwait are currently taking direct action on food sources which are contributing to health issues, such as high levels of hypertension amongst the population as a result of a high salt intake. As Dr Al Rakayan elaborated: "In 2010, the Food and Nutrition administration was confronted by the fact that almost quarter of Kuwaiti males & females suffered from hypertension. The reason was because Kuwaiti adult consumed between 12-15 grams of salt/day, well above the daily WHO recommendation of max of 5g/adult.
 "Bread is the key source of salt in our diet. Luckily one government owned bakery, the Kuwait Flour Mills and Bakeries company, produces most of the country's bread, so in 2013 the ministry of health established SIRTF (salt and fat intake reduction task force). After joint efforts from SIRTF, WHO experts, food scientists and executives from the bakery, the national salt reduction program succeeded in achieving a 20% reduction of salt on all bread. Kuwait's next step is to reduce salt levels in cheese."
 Further to these actions on childhood obesity and dietary imbalances the Kuwaiti government has also introduced schemes to reduce anaemia, promote breastfeeding and improve food labelling to include clearer nutritional information, particularly on fast food. The recent creation of a public authority for food and nutrition will only help to further these goals.
 The government is determined to tackle the obesity epidemic, which falls under the UN's policy of combatting non-communicable diseases, Al Rakayan pointed out, "As part of the participation of Kuwait in the UN meetings last July, Dr Al Sahlawy, the under-secretary of the MOH, stressed the commitment of Kuwait to put in place the UN recommended mechanisms to non communicable diseases."
 Concluding her speech Dr Al Rakayan sent out a clear message, saying, "Education is key; educating the population, public health campaigns, teaching nutritional literacy in school and using technology that our children know so well to help lure them back in to good eating habits, exercise and healthy living. Make it the hype and make it the trend. Educate parents on healthy eating habits after all we are our kids' first models. Educate parents when it is time to intervene before obesity and its consequences takes a grip of our children's lives. Simple things like eat at home, snack healthy, eat less and move more could go a long way.
"Prophet Mohammad (PBU) said:
 'Nothing is worse than a person who fills his stomach, it should be enough for the son of Adam to have a few bites to satisfy his hunger'…."
Dr Al Rakayan with FAO Director General Jose Graziano da Silva. Photo credit: KUNA