Ebola- Italian doctors under quarantine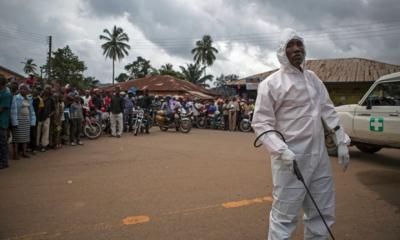 ROME - Two Italian doctors have been placed under quarantine for possible Ebola exposure, as the WHO confirms on Saturday that 4,992 people have now died in the outbreak.
 The surgeon Pier Paolo Setti Carraro and the obstetrician Chiara Maretti worked for the NGO Cuamm - Medici per l'Africa - in Sierra Leone, from June until last week when they were ordered to repatriate when it emerged that certain procedures hadn't been followed, increasing the risk of contracting the disease. The two volunteers must now complete a 21-day monitoring period.
 Giorgio Ciconali, Head of the Public Hygiene Service in Milan, reassures that the risk that Carraro and Maretti are infected is low but it is necessary to adopt new restrictions on those coming from the countries hardest hit by the Ebola virus.
 Meanwhile, Ebola has killed nearly 5,000 people largely in Sierra Leone, Liberia and Guinea. Yesterday the first Ebola case in New York was diagnosed. Dr Craig Spencer had been working for the charity Medicins Sans Frontiers (MSF) in Guinea and has tested positive for the disease. Health officials and Mayor Bill de Blasio told New Yorkers there is no reason to be alarmed.
 In a recent interview to "Il Fatto Quotidiano", Gino Strada, founder and activist of the international charity 'Emergency' alerts Western countries, especially Italy, about Ebola. "We must tackle down this virus as soon as possible, otherwise it will arrive in Europe with business class flights" says Strada.
 Western countries are worried about the spread of the virus in Europe and North America yet ignore the fact that thousands of people are dying in West Africa. What the situation requires says Strada is "a determined and clear plan of action aimed at controlling and eliminating the phenomenon. Prevention and alarmism are useless".
 On Friday EU leaders pledged to boost aid to combat Ebola in West Africa to 1bn euros. Although, member states and the European Commission have already pledged nearly 600m euros.
 Gino Strada's thoughts raise the question of whether or not the West is really doing something to help the containment of the virus. The WHO announced on Saturday that the number of confirmed cases has exceeded 10,000, however media coverage continues to emphasise the risk of the virus's spread in the West.
 Western countries are facing a paradox. On the one side, we pretend to be prepared and aware of the gravity of Ebola. On the other, we expect, perhaps, hope that the virus will be eradicated without much of our help.