AUR to host Shakespeare evening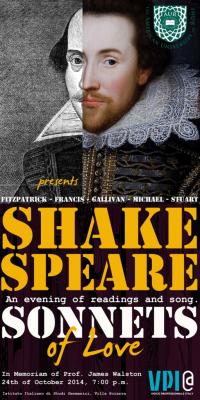 ROME – Voice Professionals Italy are set to put on an evening of Shakespeare sonnet readings and music in conjunction with the American University of Rome, in memory of Professor James Walston.
  Shakespeare's sonnets provide the most personal insight into the bard's emotions and private life, sparking endless speculation as to the identities of the two recipients.
  They are also the source of some of his most memorable quotes, from "Shall I compare thee to a summer's day" to "Let me not to the marriage of true minds…" Recognisable to English speakers worldwide as an endlessly popular choice for wedding readings. The collection runs the entire spectrum of love, veering from delirious happiness to devastation.
  "Shakespeare, sonnets of love: an evening of readings and song" will seek to capture the essence which sends readers back to Shakespeare's poetry in their droves year after year. Readers Michael Fitzpatrick and Rory Stuart will share the stage with soprano Shelagh Gallivan. A minimum donation of ten euros is asked and will be donated to the James Walston Scholarship fund.  
  The event will take place Oct. 24 at 7pm, at the Istituto Italiano di Studi Germanici, Villa Sciarra. For more information email Maurizia Garzia at m.garzia@aur.edu.