Culture, history and nature: the surreal scenery of the Vallo di Diano
Breath-taking views from the top of the Macchiaroli Castle in Teggiano
TEGGIANO- Beautiful enough to be a painting, as tourist boards in the region make an effort to promote travel to the Vallo di Diano, the sleepy valley is starting to awaken with new found energy.
 In the region of Campania, home to the incredible Pompeii, the breath-taking Amalfi coast and the vivacious Naples, close to Salerno, nestles the world heritage site of the Vallo di Diano. Within this lesser known region, close to the province of Cilento, lies a collection of small, idyllic towns, offering tranquillity and nature, culture and history in abundance.
 All that can be seen for miles and miles are rolling green hillsides; a spattering of luscious trees, large, terracotta-coloured buildings, a sea of tiled roofs, churches of differing sizes scattered all over this idyllic canvas…
  Perhaps it could be said that the beauty of the Vallo di Diano stems from its authenticity: as of yet, there is nothing to spoil the natural elegance of the Valley. In whichever part of this region, there is an overbearing sense of pride: from the food that is offered in the restaurants, to the local people offering small tours of museums and attractions, the Vallo di Diano aims to please by sharing the knowledge harboured within its hillsides, with anyone eager to immerse themselves in Italian life. It doesn't aim to impress, it aims to educate and share, and thus achieves the former almost subconsciously.
 The commune of Teggiano, perched high upon a hill in the Valley, had an originally strategic position. Remnants of Teggiano's former medieval glory are still present, and its elevated location continues to offer peace and tranquillity by way of breath-taking views, and an agreeable climate with a constant, refreshing breeze. With a population of approximately 8,000, Teggiano is a piccolo town, with an attractive intimacy.
 The Hotel Antichi Feudi, manages to be both harmonious with this sense of intimacy whilst quietly boasting a sense of grandeur. The four star lodging offers a range of comfortable bedrooms, many of which have a balcony, perfect for admiring the somewhat unreal surroundings. Flagstone floors and rustic furniture conjure illusions of typical southern Italian country living and when combined with modern en-suites and commodities such as Sky TV and a minibar, Hotel Antichi Feudi certainly makes it difficult to leave.
 The cena tipica offered at the Antichi Feudi hotel and restaurant is everything a foreigner could hope for and more in Italian Cuisine. The plethora of cutlery hints at the numerous plates which will follow. The top floor restaurant, Principessa Costanza, is simple, elegant and looks fit for a wedding reception. With delightful anti pasti such as sweet, juicy melon, accompanied by fresh mozzarella, lettuce and prosciutto, a typically Italian fusion combining sweet and savoury flavours, it is certainly true that in Italy si mangia bene. The primo and secondo piatti, a pasta and meat course, are consistently rich in flavour, varied in form and all too tempting, making it difficult to save room for the dolce.
 Once outside of the hotel, stepping into Teggiano is like stepping back in time as the village's Medieval roots are still exposed and embraced by its inhabitants. The impressive and imposing Macchiaroli Castle is perhaps the most striking example of old-world Teggiano. Impeccably preserved, the candle lit castle ruins are half open to visitors and half inhabited by the proprietors. Spread over three floors, with each new level comes an even more stunning view: it is not difficult to see why Teggiano was such a military strong hold given its high vantage point and truly incredible view.
 Teggiano alone boasts thirteen churches and there is no shortage of sights and attractions in the Vallo di Diano. The Grotte di Pertosa-Auletta, or Cave of the Angel, an incredible labyrinth of geological formation in Pertosa is a half hour drive from Teggiano. A guided tour by boat takes you into the heart of the cave, and at a cool 16C, it can be a welcome retreat from the heat. Tourists are able to explore two kilometres of this cave by boat and on foot: our guide carefully explains the formation of stalactites and stalagmites and other such features, yet the tour never feels like a science lesson. At one point, as we are taken along the river that runs through the cave in our boat, listening to the screeching of bats nesting at the top of the cave, we are told that "the motorway is 300 meters above us." From our secluded, dark location, cars and motorways seem a distant memory.
 The natural fascination of this national park goes hand in hand with the historic fascination. Padula proudly hosts "Italy's first house-museum" dedicated to the Police Officer Joe Petrosino. What really makes this museum the intriguing place it is, is the director, Nino Melito Petrosino, the great grand-nephew of the man the museum is dedicated to. His effervescent manner, perpetual smile and over-flowing enthusiasm are contagious and make him the ideal tour guide.
 Like many of the attractions in the region, the museum is small and intimate, yet eager to share its knowledge and educate the tourists it so proudly welcomes. Joe Petrosino was an Italian-born American detective who led the way in fighting organized crime, before he was assassinated in Palermo in 1909, aged 48. Some of the techniques he used in his fight against the Mafia are still practised today, ensuring his memory lives on in more ways than one.
 The museum is in the house where he was born and grew up, and is a shrine to his life and work, from child to crime-fighting adult. Photos, news clippings and uniforms adorn the walls, cabinets and furniture: Nino is not showing us round a museum, he is inviting into his ancestor's home, allowing us to get under the skin of this crime-fighting pioneer.
 Unlike many of the attractions in the region, this museum does offer a reasonable amount of content in English. Mino explains he is willing to open the museum "whenever" for "anyone who wants to learn about Joe," and it is this commitment which contributes to Padula's charm.
  In the Vallo di Diano it is not long before the much prized topic of cuisine is reencountered. A sense of tradition, pride and quality echo throughout all which Vallo di Diano, arguably one of the most beautiful regions of Italy has to offer.
 This is most definitely true of Antichi Sapori Teggianesi di Di Mieri Paolo, a family-run farm specialising in the production of cheese. The mozzarella is divine, and a tour of the family farm and demonstration of the cheese-making process make each bite of caciocavallo all the more delicious.
 Teggiano acknowledges the new whilst maintaining its fierce loyalty to the past. Like this small village, the whole of the Vallo di Diano is a pleasure in its charming simplicity, its homeliness, its eagerness and to a large extent its status as a world heritage site speaks for itself: a visit will have you weak at the mercy of Italian culture and lifestyle at its finest. Let's hope it stays that way.
To find out more about the other places mentioned in this article, visit:
http://www.castellomacchiaroli.it/
https://www.facebook.com/pages/Azienda-Agricola-di-Di-Mieri-Paolo-Antich...
English-language guided visits of the Cave of the Angel can be arranged. Call in advance to ensure the English-speaking guide will be present. www.grottedipertosa-auletta.it
Italian News Coverage of the Educational Press Tour of the region
https://www.youtube.com/watch?v=-oN3zarjUOE&feature=youtu.be
http://www.salernonotizie.it/2014/07/28/educational-press-tour-unesperie...
http://www.unotvweb.it/unonews/index.php?option=com_content&view=article...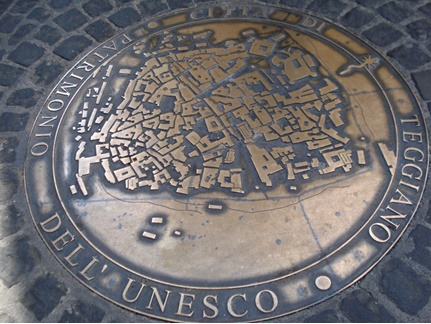 Teggiano is an UNESCO World Heritage Site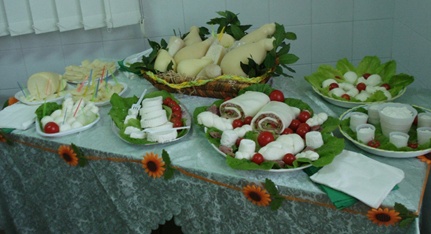 Tasting some Cheese "samples" at Antichi Sapori Teggianesi di Di Mieri Paolo