Interview: Kuwait values 50 year friendship with Italy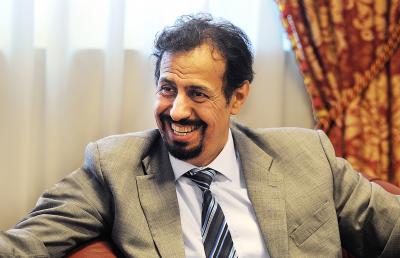 The Kuwaiti Ambassador to Italy, H.E.Sheikh Ali Al-Khaled Al-Jaber Al-Sabah . Photo Credit: ESMA ÇAKIR
ROME -Kuwait is committed to using its financial punch to help Italy exit recession, endorsing "important" Italian diplomatic efforts for mideast peace, says the Kuwaiti Ambassador Sheikh Ali Al-Khaled Al-Jaber Al-Sabah.
 "We believe that Italy is a good place to invest, especially now, in most of the sectors, in the industrial sectors, in building etc, it's very important to invest now," the Ambassador told the Italian insider. During the visit to Kuwait in February by then Italian Prime Minister, Enrico Letta, it was decided Rome would work with Kuwait to create substantial funds to invest in Italy, the ambassador recalled in an interview. "That was a good step, they are in the process of arranging a selection of funds."
Kuwait's investment  in Italy is sure to be crucial as Prime Minister Matteo Renzi battles to kick start the economy. However the ties between Kuwait and Rome are longstanding and in November the two countries will celebrate the 50th anniversary of their establishing full diplomatic relations in 1964.  These were reinforced when the Emir, Sheikh Sabah Al Ahmad Al Jaber Al Sabah, made an official visit to Italy in 2010.
 "We are doing very well after the visit by his Highness the Emir," the Ambassador said,  "he came with big delegations including businessmen wanting to invest in Italy and also those responsible for mega projects in Kuwait that become very useful for Italian companies that won tenders in Kuwait.  "
Now as many as 34 Italian major companies are working in the Gulf emirate, building roads and other infrastructure, he added. "For the private sector this is a big step forward.  In the public sector relations continue to develop.  A lot of Italian companies are active in projects with a Kuwaiti partner, such as building hiospitals."
 Italian companies present in Kuwait include Saipem, Rizzani de Eccher, Gruppo Italcementi, Maire Tecnimont, Gruppo Trevi, ABB Italia, Fisia Italimpianti, Bonatti and Pizzarotti.
 "At the level of governments  relations are good, there is a good exchange of goods and activity of the Kuwaiti  oil companies in Italy are working very well," the ambassador  added. "Q8 extended its network (of petrol stations)  this year in the north of Italy."
"His Highness's visit gave us more opportunities to open doors for more investment in Italy."
 Since his arrival in Rome the Ambassador has been active supporting Italian efforts to stabilise the Middle East in the wake of the crises in Syria and Iraq. " Yesterday I was in the (Italian) foreign ministry talking about support for the Lebanese Army. Such meetings are important."
"Why? Because we are not far from all the Mediterranean countries. I believe that the whole world not just italy should help the situation. War is like fire. It will take over the whole world if you don't stop it. It's better to solve the problem now, especially in Iraq. The  world has become a village and a flame will burn all the countries."
 Similar caution  is required when considering the "Arab Spring," the ambassador underlines. "The seasons in Europe are different to in Africa. You can't see this only in your own way. If you think about spring you should think about what is going to happen, how for instance in Libya look what happened, the poor guys killed, the American consul, this is spring. We should think about security. Chaos burns every flower."
 Elsewhere, however, the Arab Spring movement has sometimes been positive. "In Kuwait it is healthy, the Ambassador said, "It is not the first time. Since the 1970s we are very happy to see these oppositions. Of course Kuwait is a young democracy still. We are learning about democracy. "
Kuwaitis' political life starts from a good basis since the government provides citizens with free education, free health, free housing and employment. "You must have these as a Kuwaiti citizen. The best thing of all is no tax. This is a share of the oil wealth."
   The Ambassador, himself a member of the Kuwaiti royal family, pours scorn on media speculation that the Al Sabah family could lose power.
"The people chose Al  Sabah. I can't talk too much because I am biassed," he says, "It is my own family. We are unique in the way of monarchy in Kuwait. We have a parliament and if the prime minister is an Al Sabah and they can't take him then at the end of the day its is elections."
"We are in the Middle East," he adds, "happening around us is war in Syria and Iraq. It is not easy but we are trying to survive with the wisdom of the government, of the Emir, with our friends around the world. We invest a lot of relations with Britain, through history, and with Europe, also our friends in the far east. They stand with us."
The Ambassador's love of Italian culture and lifestyle goes back to when he worked in London for almost 12 years and frequently  visited Italy. "I used to come to the south where you can enjoy the sun, to Tuscany and to Cortona to ski. God gave Italy a piece of heaven. I have a lot of friends in Naples. The Amalfi coast is beautiful. I enjoy it and Capri and Sardinia when the tourists are not there, in June and September."
The ambassador is using his appreciation of Italy to strengthen ties at many levels.  "We also have students here studying in the universities, patients being sent to Italy, this is very important … we are trying to exchange experience between hospitals in the fields of medicine, pharmacy and nursing … in technology there are joint ventures with Italian companies, we felt good about this because partnerships were established."
 "We are planning to have exhibitions of  one week of culture to do with music, art and also forums to with education, research and universities.  Looking at the private sector we plan to do business forums held between the chambers of commerce."
"We are trying to get also the Islamic art collections to find a place in Rome to exhibit with the help of the mayor. These are very rare pieces in the world."
"Tourism of course is important," he adds,  "we try to show vistors Kuwait, it is not a tourist country but there is activity, we want to show people Kuwait. We always arrange tourism with business forums – or culture reforms – when you have time to see."
Sport and youth are also importantn areas of cooperation.  "We are trying to arrange events with Coni  such as women's soccer.  People  think that we don't have a lady's sport.  We have a good women's shooting team, they reached the finals in the olympics, with Italian trainers."
 Kuwait has held its own in soccer in the past, reaching the World Cup in 1982 when there were only 100,000 inhabitants in the emirate. Now it has one of the top 10 shooting teams in the world. " we are the number one in the Middle East. For Kuwait  an individual sport  like this is a very good way to get the championship."
"We are trying to arrange a conference between Kuwaiti youth and Italian youth, we are trying to invite the Kuwaiti press to meet with the Italian press."
 Kuwaiti journalists are sure to find Italy fascinating,  "I can't mention all the places to see in Italy, you are spoiled with the number of places," the Ambassador says.
" In England I enjoy the country but the weather … here it is always sunny and beautiful. In Italy it is an open museum, you can just go and walk around the Pantheon, for example, and it is free. This is unusual, in another country you would have to pay. This is very good."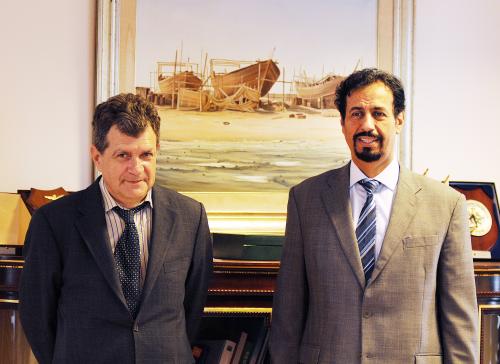 Italian Insider's John Phillips and the Kuwaiti Ambassador to Italy. Photo credit: Esma Çakır
H.E. The Kuwaiti Ambassador in his office at the Embassy in Rome.Photo credit: Esma Çakır