Italy's Alenia joins EU drone scheme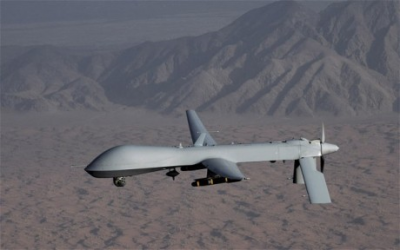 ROME-Alenia Aermacchi, Airbus and Dassault Aviation delivered a joint plan for the development of a European drone by 2020 to governments of Italy, Germany and France.
 After presenting the initial proposal at last year's Paris Airshow, the three aeronautical companies have now joined forces to further define a European Unmanned Aerial System (UAS) to the ministries of defence and create the first European military remotely piloted aircraft which could replace the U.S. Predators and Reapers used in the area. MALE 2020, as the next generation aeroplane will be named, is expected to be capable of staying 24 hours in the air.
 In a joint statement issued earlier this week, the three aviation companies propose a 'Definition Phase', which foresees that the nations in question, i.e. France, Germany and Italy, will define their requirements for a European UAS development together with their armed forces and the European industry, thus avoiding additional costs during production and reducing potential financial risks as much as possible.
 In the second phase, the collaborating countries will agree on the further development of the European UAS, leading to "an affordable and certifiable solution ready by 2020."
 "We identify a clear opportunity for the armed forces to take advantage of an advanced sovereign ISTAR (i.e. intelligence, surveillance, target acquisition, reconnaissance) capability to cope with the future high level requirements," Alenia CEO Giuseppe Giordo said Monday. "Now is the time to drive technology forward and secure Europe's capability in building the next generation of military air system as well as maintain talent and expertise in our industry."
 No estimates of the total cost have yet been mentioned; however, the project is expected to entail a 1 bln euro investment – a sum likely to arouse some opposition in Italy, especially in light of the recent F-35 controversy.