Obituary: James Walston, Political scientist and respected pundit on Italy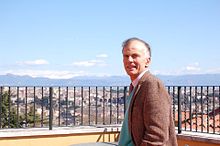 James Walston on the American University of Rome terrace
ROME– Prof. James Walston, a distinguished British political scientist, pundit on Italy and founding father of the American University of Rome, has died after a long illness, the AUR said.
 Prof. Walston, 65, died from cancer on Monday. Dr. Richard Hodges, the President of the AUR, said "it is a terrible blow for all at AUR – our students, our faculty and the administration."
 "Over the course of a quarter century James was not only a founding father of the present university, but its most distinguished, gracious and charismatic public champion. He was a beloved professor who provided his students with fascinating classes and real-world experiences, always combined with a habitually gentle wisdom."
James Walston went to Eton and studied at Jesus College, Cambridge, and later at La Sapienza in Rome before returning to Cambridge for his Ph.D. He was one of six children of the millionaire Labour politician Baron Henry Walston and Catherine Walston, the American-born beauty who was for a number of years the lover of the author Graham Greene and the model for Greene's novel The End of the Affair.
 Walston taught in many American programmes in Italy before becoming the chair of AUR's Department of International Relations. Over his long career he specialized in contemporary Italian politics, conflict resolution issues and also established AUR's Center for Research on Racism in Italy. His blog and his many newspaper articles as well as his media interviews illuminated the otherwise complicated arena of Italian politics, and won him firm friends from every part of Rome.
In 1997, Prof. Walston became the first EU citizen to stand for election to the Rome City Council. Like George Orwell he combined being an old Etonian with left-leaning views, long supporting the Labour Party and lambasting Silvio Berlusconi in his blog that he allowed the Italian Insider to reproduce.
Dr. Hodges paid tribute to Prof. Walston as "a wonderfully engaging scholar, James was thoughtful, loyal and generous to his students and colleagues alike. His company and teaching will be profoundly missed."
 James Walston, born 1949, died May 12, 2014, is survived by his wife Nora.