Poetry comes to life at Keats-Shelley House
ROME-In celebration of the bicentenary of John Keats's earliest existing poem, the Keats-Shelley House will stage a poetic-musical performance written specially for the occasion. Award-winning poet Helen Burke joined forces with fellow poets Rose Drew, Alan Gillott and Tanya Nightingale to create a brand new show, "Watcher of the Skies," devised to be performed by four poets and one musician.
 The 70-minute poetic recital will explore Keats's life through his work, from his childhood and first literary attempts, such as "Imitation of Spenser", celebrating its 200th anniversary, through his most prolific years of young adulthood, up to his last months spent in Italy. Original music will accompany the performance, with which the organisers hope to "do the young poet justice", and share his captivating work with the audience in the unique setting of his last home in the heart of Rome.  
 The performances will take place on Friday 23 May and Saturday 24 May at 7pm. Tickets need to be reserved in advance and cost €12 (or €10 concessions for visitors under 18 or over 65). For information call 06 678 42 35.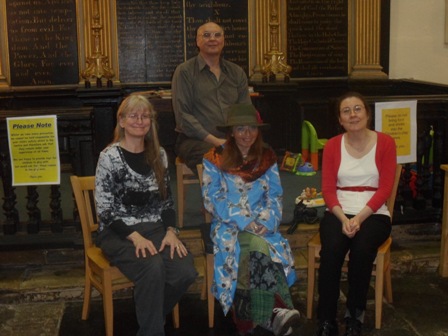 Left to right: Rose Drew, Helen Burke, Tanya Nightingale and Alan Gillott sat behind