Gay leftist governor offers alternative to Berlusconi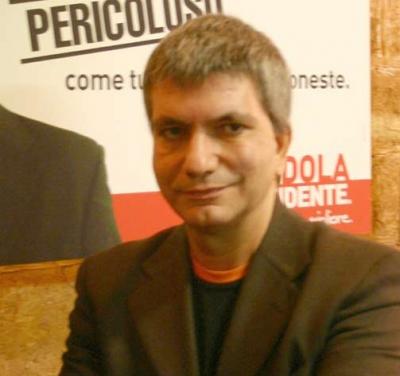 ROME — When Silvio Berlusconi recently commented it was "better to be passionate about beautiful women than to be gay" many interpreted it as a dig at his rising political rival.
Nichi Vendola, the leftist governor of the southern region of Puglia, could not be more different from the Italian prime minister if he tried — he is described as a practising Catholic, unrepentant ex-Communist and openly gay.
He is also emerging as one of the few charismatic figures on the left said to be capable of mounting a serious challenge to the embattled premier, who scraped through a nail-biting confidence vote in parliament on Tuesday.
Despite his tarnished personal image – Berlusconi has been accused of relationships with call girls and, in American diplomatic cables published by Wikileaks, of lining his pocket through his diplomatic contacts with other world leaders – the 74-year-old premier is by no means a spent force.
Even without the support of his estranged allies loyal to House speaker Gianfranco Fini, Berlusconi's campaigning skills and control over the media give him an excellent chance of winning re-election against a divided opposition.
Pull quote: I don't know whether Berlusconi will succeed in buying himself a new majority
Nichi Vendola, Governor, Puglia
The one person on the left who could match Berlusconi as an inspiring communicator is Vendola, who has been governor of Puglia since 2005 and was last year elected president of a new far left grouping called Left Ecology Freedom.
With limited access to television, Vendola has taken to Facebook and other social networking sites to rally support. Volunteers gather in a network of 'Nichi's Factories' to generate ideas, slogans, posters and videos for his campaign.
"I don't know whether Berlusconi will succeed in buying himself a new majority," Vendola said of published reports that the prime minister was seeking to lure away opposition MPs with promises of material rewards. "It's a disgusting spectacle."
The prime minister's parliamentary problems are confirmation that the Berlusconi era is drawing to a close, Vendola said.
"Getting rid of Berlusconi will be relatively easy. Getting rid of Berlusconi-ism is much more difficult. Let's hope that even Berlusconi can free himself of Berlusconi-ism, and live his age with a little more serenity," he said.
A poet, Vendola provided a pitiless dissection of what he said were the vices of Berlusconi-ism, which provided society with the mercantile freedom of the TV zapper and the supermarket but left people spiritually and materially impoverished.
Berlusconi's populist rule had excluded the people from participation in politics, Vendola argued, privatising the public good and turning electors into passive spectators, while opening the door to corruption. Berlusconi-ism was now deeply ingrained in the Italian psyche, he added.
Vendola, who has a ring on his thumb and wears an ear stud, overcame the deep-seated prejudice and conservatism of a prevalently agricultural southern region to win two terms as governor of Puglia, where he has encouraged investment in renewable energy, small-scale agriculture and small and medium-sized factories.
But to get a realistic chance of facing off against Berlusconi at the national level, he must first convince sceptical allies on the left that he truly represents their best hope of victory. That's no easy task.
He is an inspiring orator and campaigner, but that does not necessarily guarantee competence once in office.
"He is the only credible candidate we have, but his weaknesses on the economy, international affairs and defence mean he would not necessarily make a good leader if he were to win," said Aldo Giannuli, a historian from Bari who has known Vendola since he was 17.
But the ideal of public service, participatory politics and social solidarity conjured by the words of a passionate poet could be just the antidote to Berlusconi-ism that many on Italy's floundering left have long been seeking.