Renzi woos Tories, City investors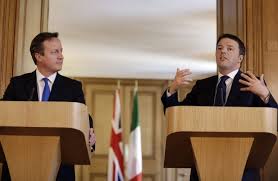 ROME--As his UK trip ended, Prime Minister Matteo Renzi met representatives of banks and financial groups to discuss privatisation of Poste Italiane, Fincantieri shipbuilding company and SACE export credit agency on the horizon. With ENI, ENEL, Terna and Finmeccanica holdings awaiting placement on the market, the stakes are high: four billion euros could flow into the government's coffers from selling 40% of Poste Italiane, according to the calculations of Deputy Economy Minister Enrico Morando; 1.2 bn euros is the estimated value of Fincantieri, while a 60% sale of SACE could yield €2.5 bn.
 The series of meetings which filled Renzi's calendar – first an appointment with the Italian business community, then an interview given to The Economist - reveals a markedly economic focus of his visit in the UK, which, in view of the ambitious privatisation programme already under way, does not surprise: attracting the attention of Europe's largest stock exchange may prove crucial to its success, and to the success of the newly formed government.
 Tuesday's appointment left Mr Renzi optimistic: "There is a lot of interest in the Italian market," he stated, following his meeting with David Cameron. "These days many investors bet on Italy's future. Because finally there is stability, at least until 2018. And because the reforms which we have started give a sense of a country which wants to invest in its own future, not only pay the debts of the past."
 Twenty London-based Italian investors and financial experts were invited to the Italian Embassy yesterday to discuss Italian economy with the prime minister, who laid out his reform plan and asked: "What can I do to create jobs, to make the economy grow and, above all, to attract foreign capital to Italy?"
 More flexibility on the job market, a more "cooperative, and not punitive" tax system, less bureaucracy – these were some of the solutions offered, and the prime minister's speech at 10 Downing Street soon afterwards, announcing a war on bureaucracy and promising "a new justice", proved the advice had been immediately taken into account.
 The response from the Italian business community in London seems to justify Mr Renzi's optimism: "There has never been more interest in Italy than in these last few days," said Algebris Investments CEO Davide Serra, and added: "Investors and analysts see a young prime minister who finally wants to fight the lobbies and implement reforms which can restore the country's competitiveness."
 Today's meeting was undoubtedly a bigger challenge, as Mr Renzi had to convince the CEOs of some of the City's biggest investment trusts, including Schroeders, Black Rock, Fidelity and PIMCO, that Italy now facing major reforms is again a valid investment destination.    
 "There is a great demand for Italy in this country," said the prime minister as Wednesday's meetings came to a conclusion, and added: "I think this is a message of real hope here in London."