Obama meets Pope Francis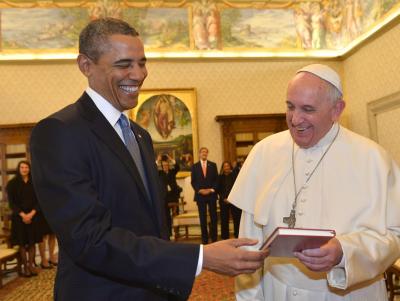 ROME -- US President Barrack Obama had a "cordial and warm"  audience with Pope Francis Thursday at the start of his visit to Italy and the Vatican, the Holy See said.
 It was President Obama's first meeting with the pontiff, and according to Vatican sources their fifty-minute conversation was characterised by great warmth and cordiality. "How are you?" were the words with which the American president greeted the pope, followed by: "It is a great honour, I am a great admirer," to which Francis replied, in English: "Welcome, Mr President."
 The private audience was carried out in English and Spanish, with two interpreters present. Among the gifts exchanged was a copy of Evangelli Gaudium ("The Joy of the Gospel"), a document considered to represent a manifest of Pope Francis's pontificate, a medallion with an angel symbolising solidarity and peace, and a leather chest with seeds from the White House garden. "If you ever have the opportunity to come to the White House, we can show you our garden as well," said Mr Obama, to Francis's enthusiastic "Why not?" said in Spanish.
 Remembering his last visit in the Vatican when he was accompanied by his wife and daughters, Mr Obama concluded the meeting asking the pope to pray for him and his family: "They are with me on this journey. They have to support me," said the president, and the two shook hands cordially.
 The American head of state landed at Leonardo da Vinci Airport Wednesday night and slept at Villa Taverna, the U.S. Ambassador's residence.