Obama visit underlines U.S.-Italy trade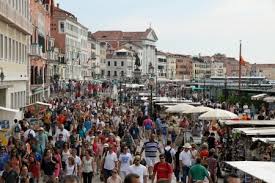 ROME-Awaiting U.S. President Obama's arrival in the Eternal City this Thursday, Unioncamere Toscana calculates the value generated by Americans in Italy.
 Over 28 billion Euro per year is the estimate of the total value of the Italy-US business: trade and tourism flows triggered by the U.S. demand in our Country, besides the expenditure of American students in Italy. Italy is the first international destination requested by customers of United States tour operators, and after the United Kingdom, the second favorite destination for study abroad programs.
 On thursday U.S. President Barack Obama will pay an official visit here and will attend political and economic meetings: a study of Unioncamere Toscana estimates the direct impact of the relationships with the United States in different Italian regions, according to a composite index that includes both economic and social components. In the first place we find Lazio, immediately followed by Tuscany and Lombardy, Veneto, Emilia Romagna, Campania and Sicily.
 Rome, Florence and Venice have a strong appeal in terms of quality of life, artistic and cultural heritage. Thanks to the driving force of their three capital cities, Lazio, Tuscany and Veneto are the preferred regions by those who want to spend some time in Italy. The "Great Beauty" provides the three regions with over 3 million arrivals in official structures per year (72% of American travelers in Italy) and more than 8 million bookings, with an estimated expenditure of over 600 million Euro in Lazio, 300 million Euro in Tuscany and 200 million Euro in Veneto. Next on the list of favorite tourist destinations is Campania, with 7.5%.
 Lazio and Tuscany represent a cultural status symbol for American students as well, who prefer to study Humanistic and Social Sciences in Italy. Considering enrollment in both U.S. universities and Italian public universities, there are more than 80 percent of U.S. students studying abroad in the two regions. Looking at short stay periods, spending levels are particularly high: more than 19 million Euro per year in Lazio and almost 14 million in Tuscany.
 Despite the crisis, the United States remain the top trading partner among the non-EU countries. Those coming to Italy for business undoubtedly choose Lombardy, which is the first Italian region a number of American entrepreneurs (23% of total) travel to. The total value of trade flows between the US and Lombardy is € 6.5 billion, followed by Emilia Romagna (4 billion) and Veneto (3.3 billion). The main activities carried out in Italy are related to trade, but U.S. entrepreneurs in Sicily, Campania and Tuscany prefer to launch activities related to agriculture and agro-food industry.
 "I believe in a strong relationship with the U.S., ready to grow even more with Obama's visit to Italy. It comes from a deep common history which was indispensable for the development of our Countries in the last half century," president of Unioncamere Toscana, Vasco Galgani, said.