Vatican soccer season kicks off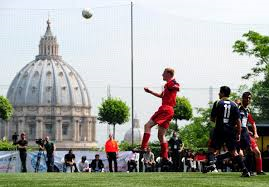 VATICAN CITY—Priests and seminarians from around the world will descend on the pitches at the Pontificio Oratorio to compete in this tiny city state`s soccer championship.
 358 players representing 60 different nationalities from Rome's various seminary colleges will take part in what is already the 8th edition of the Clericus Cup, launched in 2007 by a lifelong Juventus supporter Cardinal Tarcisio Bertone and promoted by Centro Sportivo Italiano. This year's tournament is specially dedicated to Pope Francis, who, on June 7, will be joined in St Peter's Square by sports clubs from across Italy for grand-scale celebrations of the 70th anniversary of CSI's foundation.
 To honour the Cup's venerable patron, young priest-trainees will play their matches wearing shirts with an imprinted motto: "My captain is Pope Francis," which, according to Father Alessio Albertini, best sums up the pontiff's special role: "The task of a captain is to lead the team, be a point of reference in moments of greatest difficulty, give courage to the most disheartened players, to be a man-symbol… who better than Pope Francis embodies these qualities on the great pitch of the world today?"
 The organisers of the tournament and its supporters within the Church emphasise the educational message which the initiative is meant to convey: in the words of Cardinal Gianfranco Ravasi, it is essential to "recover the instructive dimension of sport as a means of self-knowledge, openness towards others, overcoming one's limits, and as a place of discovery of God."
 In the opening match last Saturday, the reigning champions, North American Martyrs, defended the title against the young athletes from the Augustinianum-Marianum college, scoring a spectacular 5:0 victory over their rivals. Leading up to the finals in May, matches will be played in four groups, each composed of four teams, and their rivalry can be followed beyond Vatican's fields through social media, with video highlights regularly shared by the organisers on Facebook and Twitter.