Unification celebrations begin despite division and controversy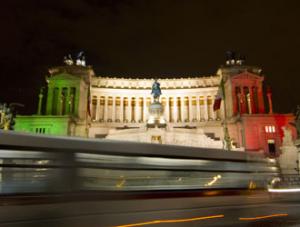 ROME - Thousands of Italians took to the streets and tuned into their televisions last night to celebrate the opening ceremony of 150 years of Italian Unification.
The celebrations began amid assertions of controversy and division. MPs belonging to the Northern League, a key ally to Berluconi's People of Freedom party, were expected to desert a unification ceremony in the Lower House today, despite the fact that the regionalist party's government ministers were likely to attend.
Members of the League, which had objected to March 17 being declared a national holiday this year, were jeered in Milan after setting up a desk outside the town hall to show they were not taking the day off to celebrate.
The party newspaper, La Padania, ran a headline bemoaning "150 years of damaging centralism" and said the only reason to celebrate was that this will come to an end with the government's federalism project.
However, ahead of the celebrations, Italian President stated, "We are celebrating the best of our nation,". "Without unity our nation would have been swept away by history… If we are united, we will overcome all the challenges that await us".
Although Italy was celebrating 150 years of Unification, for the inhabitants of Rome this celebration may have been seen as ten years too early. Rome only became part of unified Italy in 1870, when Napolean withdrew his troops to fight in the Franco-Prussian war. This tardy inclusion was perceptible in the rather controversial celebrations in Rome last night.
Despite the inclement weather, over 100,000 people took to the streets, crowding outside the Quirinale, Termini and Piazza Venezia to witness the events. Outside the Quirinale Giorgio Napolitano was met with irreverence and cheers, while the stirring reading from Raoul Bova, who recounted events from Garibaldi's military campaign was one of the most atmospheric moments of the opening party.
Yet, as Defence Minister Ignazio La Russa was interviewed outside the Monumento Nazionale a Vittorio Emanuele he faced a wave of resounding jeers from the audience, who could be heard crying "shame", and "resign". Likewise, the Mayor of Rome, Gianni Allemanno whose popularity has waned in recent Ipsos polls uttered only a handful of words before sharply concluding his address.
This crowd hostility suggests that a number of Italians were not quite ready to revel in self-congratulation last night– the situation in Libya and the scandals of Silvio Berlusconi remained at the forefront of the minds of many.
Live in the RAI 1 studio in Rome the two much-cherished bastions of Italian TV Pippo Baudo and Bruno Vespa led a curious five hour musical spectacle charting the historical struggle for unification, connecting the different celebrations which were taking place across Italy. The director of RAI Mauro Mazza applauded the work of his team today, stating how "centocinquanta demonstrated exactly how RAI and RAI 1 understand their role as 'public service'". Viewing figures released today have shown that the gala was watched by an audience of almost 6.5 million.
Double Oscar winning Italian actress Sofia Loren was one of many guests wheeled in to mark the occasion. The anniversary was clearly an emotional event for the star, when presented with photographs of her deceased husband, film producer Carlo Ponti she broke down into tears, stating how she "misses him everyday".
Baudo and Vespa seamlessly moved from this to link up with the other events occurring across Italy. Footage moved from what appeared to be an extraordinary ballet performance of Romeo and Juliet in Naples, to pro- Italia pop music in Turin. In Florence thousands of people flooded the squares in celebration as fireworks exploded from the tower of the Palazzo Vecchio. This mood of excitement was quite different to what was witnessed in Rome- and further proof that different Italian regions still like to do things differently.
Today, which is a national holiday, will see Napolitano and Berlusconi visiting the Pantheon in order to lay a laurel wreath at the tomb of Italy's first head of state, King Vittorio Emanuele II, an event also attended by members of the Savoy dynasty, who were deposed as the royal family when the nation voted to become a republic after World War II.
The events of last night and today are only a small part of a year-long programme of events and initiatives. These include the building of new national museums for unification figures Giuseppe Mazzini and Garibaldi and a host of exhibits and conventions in Italy and abroad.
A number of foreign heads of state, including Barack Obama, have been invited to more anniversary celebrations on June 2, Italy's Republic Day national holiday.