Air Serbia taking off
Serbian Minister of Economy Saša Radulović and Air Serbia CEO Dane Kondić at the opening of the brand new travel office
ROME - The first commercial flight of Air Serbia will take off from Nicola Tesla Airport in Belgrade, headed for Abu Dhabi, on Saturday. The flight marks the inauguration of Air Serbia, the new national airline of the Republic of Serbia.
In August, the Serbian government signed a partnership agreement with Etihad Airways, the national airline of the United Arab Emirates, creating Air Serbia while acquiring the majority of assets from Jat Airways. 
The airline will become an integral part of Serbia's economy, playing a fundamental role in developing travel and tourism in the nation while also maintaining a new "customer focused philosophy." The airline has also launched a new travel office in Belgrade, as well as a
new website
and
Facebook
 and
Twitter
pages.
CEO of Air Serbia, Dane Kondic, has said that the move is "marking a new era" in business and tourism. The Serbian Minister of Economy Saša Radulović has also stated that this move is the "first healthy example of government partnership" and that it is expected to bring "huge returns" to the economy.
Air Serbia is expected to employ over 21,000 people while contributing over €500 million to the country's GDP each year.
Operating a fleet of 14 aircraft, the company will provide service to more than 30 Mediterranean destinations, including nonstop flights from Belgrade to Rome and Milan. It will also offer long-haul flights to destinations in Asia, Australia, and the Americas operated through code shares.
 By the end of 2014, the airline expects to have 24 aircraft in service.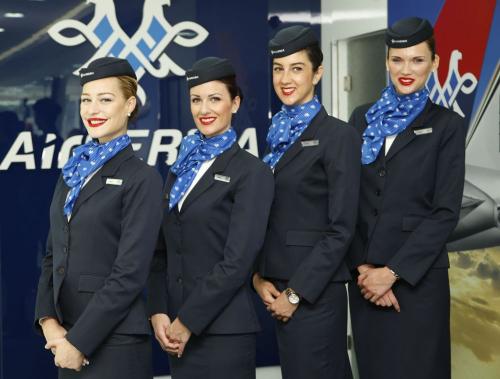 Four of Air Serbia cabin crew