Italy "unable to react" to Arab Revolts as Algerians prepare mass protest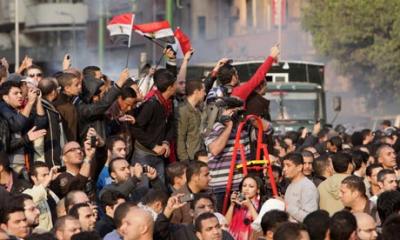 Egyptians protest in Cairo
ROME — Italy's long-running domestic political crisis is preventing it from reacting to the political change sweeping the Arab world, making its extensive business and strategic interests and influence in north Africa vulnerable, political experts say.
"First Tunisia, then Egypt, what is happening in the Arab world is like the fall of the Berlin wall all over again," Bobo Craxi, former undersecretary of foreign affairs, told the Corriere della Sera newspaper. "As far as Italy is concerned, Tunisia is nearer to us than Spain, but these days we are preoccupied with Santa Lucia and a Moroccan girl."
"And yet foreign policy concerns the are we live in. This crisis will hit us in one way or another and we don't have the tools to react." Craxi knows the region better than most politicians, given that his father, the Socialist former prime minister Bettino Craxi, spent years in exile at his villa in the Tunisian city of Hammamet on the run from corruption charges.
The Italian Prime Minister, Silvio Berlusconi, has increasingly sidelined the foreign ministry in recent years, preferring to direct major international policy matters from his office at Palazzo Chigi. However his energies in recent months have been focussed on deflecting criticism for his eccentric lifestyle including charges by investigating judges of paying an under age Moroccan prostitute.
In Algiers, meanwhile, opposition student groups, trade unions and dissident internet users are preparing for a mass pro-democracy demonstration against the military-backed regime of Algerian President Bouteflika to be held Feb. 12, calling for the lifting of the state of emergency in force for years in the aftermath of the civil war of the 1990s between Algerian security forces and Islamist militants.
"Beware, governments of people who seem asleep," said the Quotidien d'Oran newspaper in an editorial. "When the wall of fear gives way and the populations begin to move, it is often too late for the regimes. The blocking of the natural dynamic of Arab societies in the name of the 'Islamist threat' no longer functions."
"This is valid in the east of Tunisia, and valid to the west of that revolution, in Algeria."
jp