March to Remember to be held on Wednesday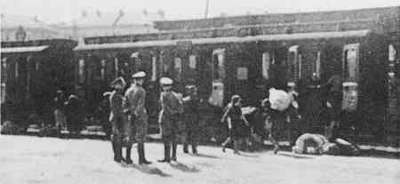 Jews boarding a train from Rome to Auschwitz on October 16, 1943
ROME - On Wednesdy, hundreds will take part in the March to Remember, a memorial to commemorate the 70th anniversary of the day that over 1,000 Jews were captured and taken from Rome to Auschwitz.
The Community of Sant'Egidio and the Jewish Community of Rome have been conducting the march every year since 1994. The march is meant to be a "pilgrimage of memory," to remind the people of Rome to never forget because "there is no future without memory."
On Wednesday, Bishop Matthew Zuppi will lead the silent march from Piazza Santa Maria in Trastevere along the same path that the group was led. The procession begins at 6:45 pm and will end at 7:45 pm in Largo near the synagogue. 
Among those in attendance are Ignazio Marino, Mayor of Rome, Piero Grasso, the President of the Senate, and Enzo Camerino, an Auschwitz survivor who took the same journey through Rome 70 years ago.