Enrico Letta to chair XXI Pontignano Conference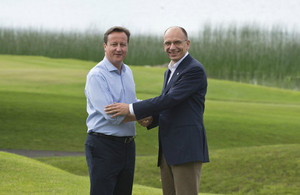 UK Prime Minister David Cameron with Italian Prime Minister Enrico Letta
ROME - Italian Prime Minister Enrico Letta will join Lord Chris Patten to preside over the XXI Pontignano Conference at the University of Siena on Oct. 4th.
The conference, presented by the British Council and the British Embassy of Italy, will begin at 5 pm on Friday with a message from UK Prime Minister David Cameron. The event concludes on Sunday, Oct. 6th.
This conference has been distinguished as the most important Anglo-Italian bilateral event and it will feature many prominent political figures, academics, journalists, and businessmen. 
The topic of the conference is "The Democracy of Welfare in Europe", and the speakers will confront some of the key questions relating to the future of welfare in Italy, the UK, and all of Europe.
The events on Saturday and Sunday will be conducted under the direction of the Chatham House.