Grandpa ice-cream at its best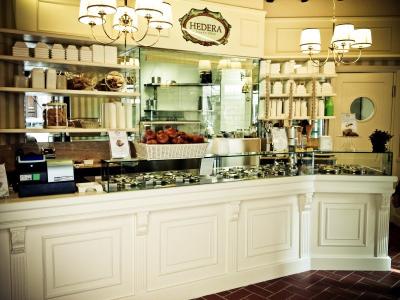 ROME – Gelato enthusiasts who go for outlandish flavours like Kinder Bueno or Gorgonzola might be initially disappointed on entering Hedera, for its selection is small and traditional.
Artisan ice cream can be curiously difficult to find in Rome – especially if you are reluctant to pay over 50 pounds for four cones, as a group of unfortunate British tourists did in May in a café by the Spanish Steps.
Hedera, the latest gelateria to have opened in the clogged streets surrounding Vatican City, proves that traditional ice cream made with the best ingredients can be found at non-scandalous prices.
Owners Ferdinando and Francesco Ceravolo are father and son, and have ice cream in their DNA – before setting up Hedera in an old palazzo, they had another gelateria in Calabria. Many of the recipes being put to use in the new digs are over 60 years old. The shop specialises, Ferdinando says gravely, in "the ice creams my grandpa used to make." While recipe-vintage is no automatic guarantee of ice cream quality, the grandfather in question was clearly a maestro gelato maker, for Hedera's are hands-down the best in the area.
Four granitas, six cream-based and six fruit-based ice creams go on sale each day. In Rome, such concision is rare – most gelaterias offer such a startling range of flavours that visitors can spend more time deliberating over which flavours to stick in their cone than they will on actually consuming it.
Nonetheless the twelve ice creams change every day according to which fruits are in season and available in the morning markets. The team is obsessive about ethical ingredients and adds no artificial flavourings or colours to the mixtures.
At the back of the shop, whose décor strangely redolent of Paris' Ladurée, a large glass panel provides a glimpse of the 'laboratory', allowing curious onlookers to watch the craftsmen at work amongst stainless steel pots and jars of spices.
The smallest cone comes in at 2.50 euros, which is about average for the area. Hungry customers can also opt for a freshly-baked Calabrian brioche, which Ferdinando or his son will slice in half and stuff with ice cream, compiling what is surely Rome's most indulgent sandwich.
All the ice creams are exceptional, though the 'lab technician' I spoke to at the back of the shop was wise to recommend the pistachio gelato, made from nuts cultivated in the Bronte region of Sicilia.
Hedera is easily the best gelateria on South bank of the Tiber and could probably compete with all the older fixtures in the centre of town. This is 'grandpa ice cream' done to perfection.
Francesco Ceravolo, centre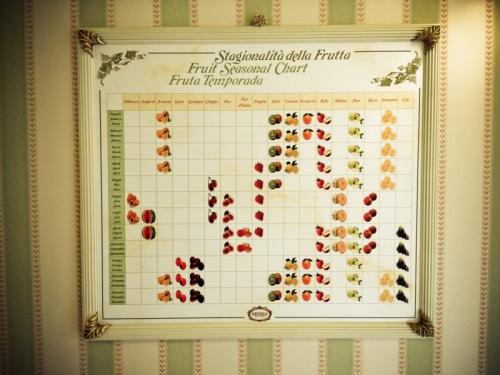 Hedera's fruit season chart