'Social Videoscapes From The North' with an Italian touch showcases in Finland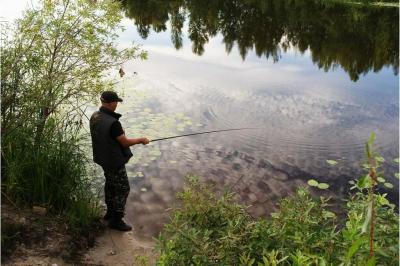 Siri Hermansen Dennis Fishing in the Chernobyl River video still from Chernobyl Mon Amour 2012
Pro Artibus'summer exhibition Social Videoscapes from the North, on display at Gallery Elverket in Tammisaari, Finland till September 8th, focuses on contemporary video art from the Nordic countries.
Exhibition curator, Italian Lorella Scacco, believes that in Nordic video art there is a focus on the social landscape – i.e. the relation between human and society and on the use of a documentary approach in the narration.
The artists featured in the exhibition represent each of the Nordic countries and are all internationally established.
Maria Friberg (1966) is a Swedish visual artist who explores the themes of power, masculinity, the human relationship with nature and social changes. Her main techniques are photo and video. The exhibition includes her work Calmation from 2012.
Siri Hermansen (1969) is a Norwegian visual artist who works with video, photography and installation. Her artistic method resembles a form of shared anthropology. In the exhibition she show Hermansen's works Chernobyl Mon Amour and Land of Freedom, both from 2012.
Eva Koch(1953), a Danish visual artist, deals with ordinary people and their stories, and different references to art history. Eva Koch is one of the Nordic pioneers in public video art. Her work Augusta from 2008 is included in the exhibition.
Rúrí(1951) is a multidimensional artist from Iceland working with video art, performance, and installations. No matter the medium Rúrí's main interest concerns social and ideological questions. The exhibition features her work ITEMS from 1978/2005.
Mika Taanila(1965) is a film director and visual artist from Finland, who works fluently in between visual arts and documentary film. His most recent work My Silence (2013), shown in the exhibition, will have its world premiere at Elverket .
Lorella Scaccois an Italian curator and critic who has written extensively on contemporary art. In 2009 she wrote the book Northwave - A Survey of Videoart in Nordic Countries, which offers a broad survey of developments in Nordic Countries video art from the 60's until now and the poetics developed by artists.
Scacco has curated exhibitions since the 1990s; for example she acted as curator for the first exhibition of the Finnish artist Elina Brotherus arranged in Italy.
A press conference and accompanying symposium was held on May 23rd, 2013. Three of the artists attended the symposium along with exhibition curator Lorella Scacco, curator Catrin Lundqvist from Moderna Museet in Stockholm, and artist Philip von Knorring. The symposium was hosted by journalist Christian Forsberg. The exhibition catalogue was released at the symposium.
Info:
Exhibition, Elverket, Gustav Wasas gata 11, Tammisaari
SOCIAL VIDEOSCAPES FROM THE NORTH
 (May 25th–September 8th 2013), Tuesday–Sundayat11–17.
Closed on Mondays and  21–23 of June.
Free entrance!