Art against Mafia: Tahar Ben Jelloun and Pizzi Cannella homage to Rosario Livatino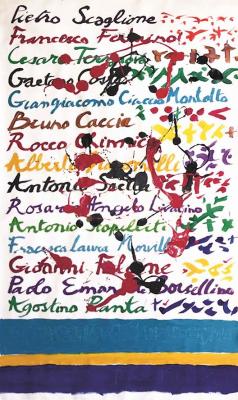 "Quindici vittime della mafia" 2022, mixed technique on canvas, cm 114×205
 ROME – On Friday, the French and Moroccan writer and painter Tahar Ben Jelloun together with artist and the Italian painter Piero Pizzi Cannella, will pay homage through the use of their art to Rosario Livatino, who was an Italian magistrate killed in Sicily by the Mafia in 1990 - later beatified by Pope Francis.
 The pilgrimage of the relic of judge Livatino - the shirt covered in blood that he wore when he was assassinated - will take place in Rome from Jan. 14, until Jan. 21. The programme of the event dedicated to the magistrate includes a variety of phases, among which the homage of the two artists.
 The Artworks of Tahar Ben Jelloun ("La Madonna di speranza fontana vivace" 2022, mixed technique on canvas, cm 200 x 250; "Il Fiore del ventre Tuo" 2022, mixed technique on canvas, cm 200×250; "Quindici vittime della mafia" 2022, mixed technique on canvas, cm 114×205) and the Artwork of Piero Pizzi Cannella  ("Manto della Vergine" 2022, oil on canvas, cm 200×150) will be exposed from Friday at 7:30 p.m. until May 20, 2023, in the central aisle of the Basilica of St. Mary of the Angels and of the Martyrs in honor of the magistrate.
 "The Church holds in art a tool to spread its message" - says Lorenzo Zichichi, the president of Il cigno GG Edizioni, a publishing house specialized in scientific and art publications. Lorenzo highlights the importance of finding artists, that are not only famous but that are capable of using their art as a 'carrier' of such message, saying he fully supports the invitation of the two painters as he finds them to be the best suited to interpret the martyrdom of judge Livatino.
nk
"Il Fiore del ventre Tuo" 2022, mixed technique on canvas, cm 200×250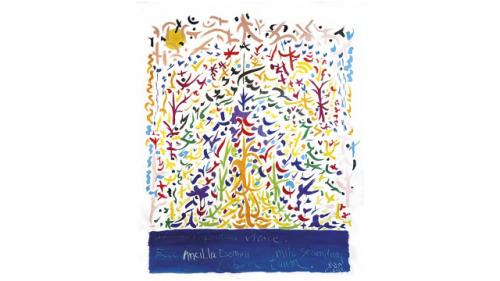 "La Madonna di speranza fontana vivace" 2022, mixed technique on canvas, cm 200 x 250
 © COPYRIGHT ITALIAN INSIDER
UNAUTHORISED REPRODUCTION FORBIDDEN